Description
Speed Controller (Governor)
This will allow you to choose how slow or how fast the quad goes, it can be adjusted down to 5 mph, You can continue to adjust the speed as your child gains more experience and skills. providing comfort to parents.
Kill Switch
Your child can turn off the engine themselves. Easy to reach and right at your fingertips.
Electric Start
Traditional ATV only comes with a Kick Start which makes it hard sometimes to start your ATV, With our ATV, you can start your ATV electrically, by a push of a button. Quick and easy to start.
Rear Hydraulic Disc Brakes
Ideally designed with children in mind. will provide added braking power for extra safety and protection.
Padded Seating
Better riding experience with a roomy, nice and spacious cushioned seating.
Front Bumper
In the case of any impact, this front bumper guards your ATV against unwanted damage.
Rear Luggage Rack
This provides an added storage space. Pack it up and take it with you.
Featured Headlight, Brake, and Taillight
For riding at night. These features provide better visibility from front to back.
Foot Rest/Guard
A wide and ridged footrest provides a non-slipper surface. Allows for a stability and better control. Designed to keep your feet secure and guards against the tires.
Remember
1. Based on the vehicles' nature and intended use, it is strongly recommended that assembly and PDI be performed by trained, licensed mechanics.
2. All units, including those which have been fully assembled, are subject to unforeseen conditions during transit. All units must be inspected prior to initial operation in order to prevent unnecessary damage and ensure a riding experience
US EPA APPROVED
NO CARB (This unit is not for sale in the state of California)
This unit is also not for sale in the state of NJ and PA
Assembly Information
Our vehicles come 90% assembled at the factory and fully tested prior to shipping. This vehicle requires some minor assembly. May include: handle bar brackets, front and rear wheels, front and rear racks (if included), and battery. (May differ per model)
Model:
Engine type:
Transmission:
Clutch:
Bore*stroke:
compression ratio:
Max power:
Max torque:
Engine oil capacity:
Lubrication system:
Starting system:
Ignition:
Carburetor:
Spark plug:
Spark plug space:
Fuel capacity:
Max speed:
Shocks Front/Rear:
Tire Front:
Tire Rear:
Brake Front:
Brake Rear:
Generator:
Front light:
Battery:
Rear light:
Dimensions (inches):
Wheelbase:
Ground clearance:
Front gradient:
Minimum turning radius:
Steering angle:
Gross weight:
Net weight:
Wheelbase front:
Wheelbase rear:
Seat height:

ATV-3150DX-2
150cc 4-stroke, air-cooled, single cylinder
Automatic
CVT
57.4 x 57.8mm
9.5 : 1
6.0 / 8000 (Kw/r/min)
7.8 / 6500 (N.m/r/min)
900 ml
pressure spatter
electric / foot
CDI
PD24
D7TC
0.6-0.7
2.06 gal. with 0.16 gal. standby
36 mph
Hydraulic spring / Hydraulic spring
23 x 7-10 8psi
22 x 10-10 8psi
Hub brake / hand operated
Hydraulic disc / foot operated
Non-contact outside the rotor flywheel
12V35 / 35W
12V 9AH
12V21 / 5W
73.62L x 39.76W x 41.73H
47.83 inches
6.5 inches
26 degrees
3600 +/- 500 mm
left right 40 degrees +/- 4 degrees
425.5 lbs.
375 lbs.
32.28 inches
27.95 inches
29.92 inches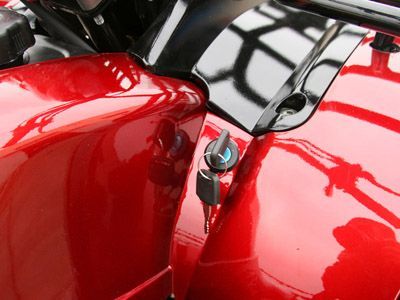 150cc ATV Key Ignition View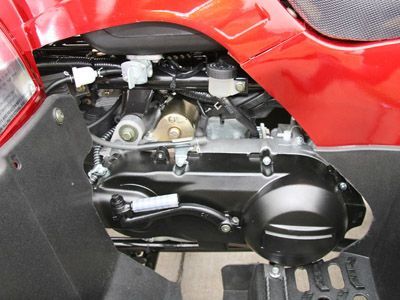 150cc ATV Left Side Engine View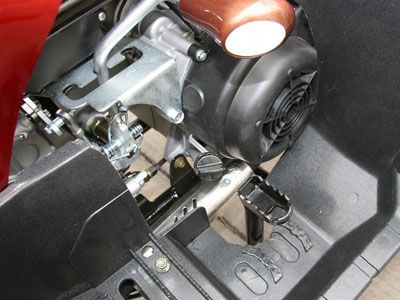 150cc ATV Right Side Foot Brake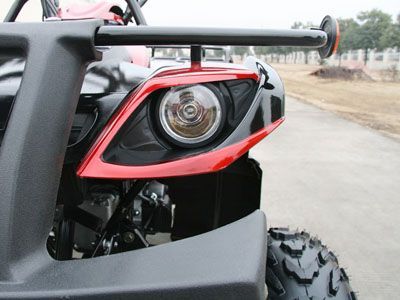 150cc ATV Front Headlight View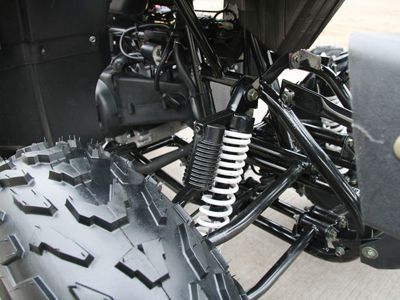 150cc ATV Front Coil Over Shock
150cc ATV Front Double A-Arm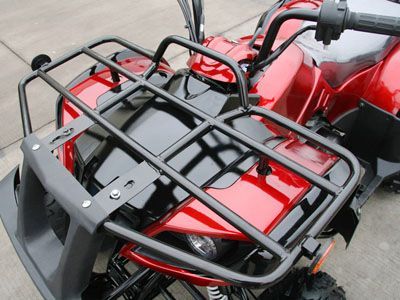 150cc ATV Front Carrier Rack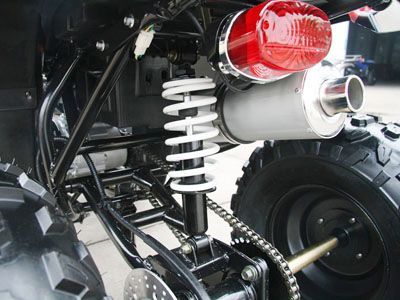 150cc ATV Rear Coil Over Shock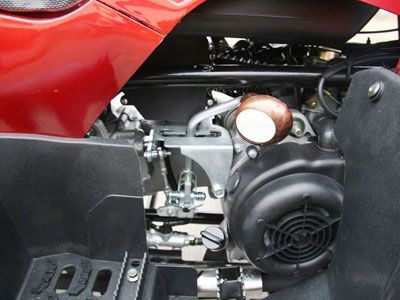 150cc ATV Right Side Gear Shift Lever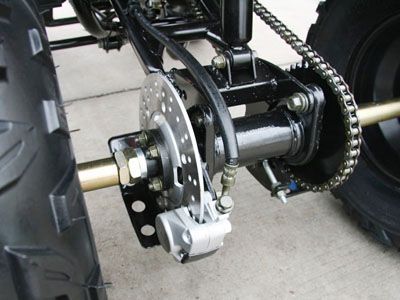 150cc ATV Rear Center Drilled Disc Brake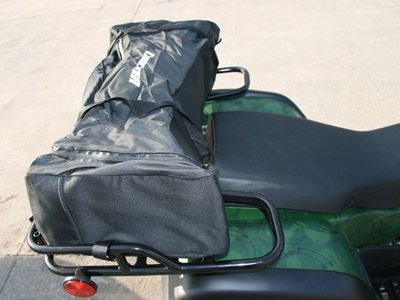 150cc ATV Free Gift Matching Rear Rack Bag
Specification
| | |
| --- | --- |
| Shipping Rate | 319.9500 |
| Assembly | 85% Assembled (Installation require on varies bolt-on items) |
| Engine | Air cooled,Single cylinder,4 Stroke |
| Engine Type (ml) | 150 |
| Starter | Electric / Foot |
| Battery Type | 12V 9AH |
| Gear | CVT |
| Transmission | Belt Drive and Chain Drive |
| Ignition | CDI |
| Max Power | 8.2 |
| Max Torque | 7.8 |
| How Fast | 36 |
| Climbing Ability | 15° |
| Cooling System | Air cooled |
| Kill switch | Yes |
| Speed limiter | Yes |
| Lighting | Front light 12V35 / 35W ;Rear light: 12V21 / 5W |
| Fuel Type | Gas |
| Fuel Capacity (Gal) | 2.06 gal. with 0.16 gal. standby |
| Frame | High Strength Steel |
| Ground Clearance (inch) | 6.5 |
| Wheelbase (inch) | 47.83 |
| Gear Shift Patten | F-N-R |
| Brakes Front | Hub brake / hand operated |
| Brakes Rear | Hydraulic disc / foot operated |
| Tires Front | 23 x 7-10 8psi |
| Tires Rear | 22 x 10-10 8psi |
| Front Suspension | Hydraulic spring |
| Rear Suspension | Hydraulic spring |
| Wheel Size | 10 Inch |
| N.W. (lbs) | 375 |
| G.W. (lbs) | 425.5 |
| Overall Length (inch) | 73.62 |
| Overall Width (inch) | 39.76 |
| Overall Height (inch) | 41.73 |
| Seat Height: (inch) | 29.92 |
| Tools Kit | Yes |
| CARB Approved | Yes |
| MCO(Title) | No |
Gallery
Vehicle Size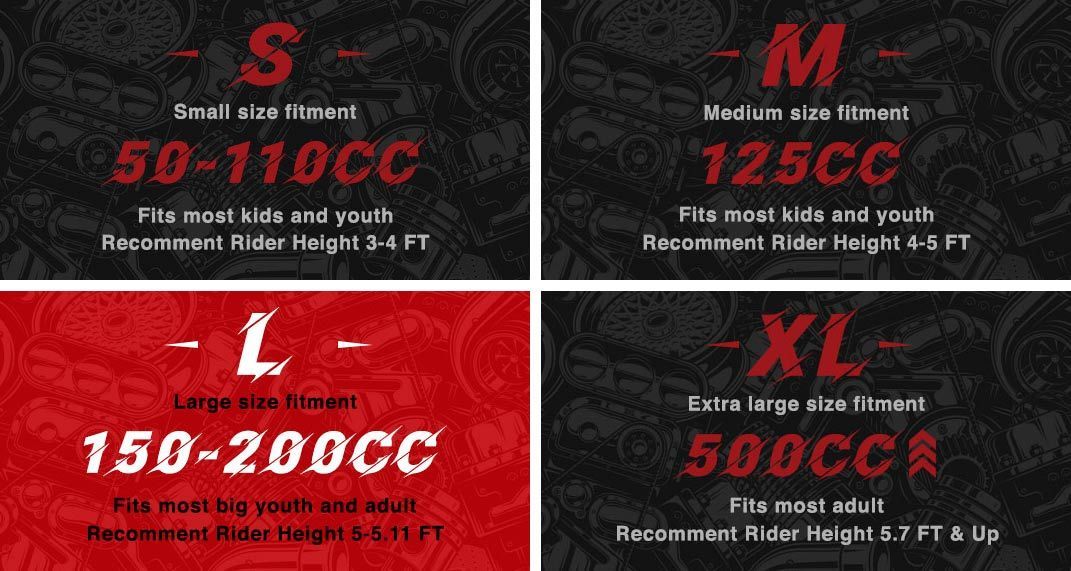 FAQ
1. How long have Red Fox Powersports been in business?
A: We have been in the Power Sports industry since 2004 , We do have our own exclusive factory working with us. This will allow us to present exclusive NEW products every year.
2. Where is Red Fox Powersports located?
A: We are located in Southern California with full service capability. Address can be found on the website under office hour and location at the bottom of the page.
3. Can I place my order online by myself?
A: Yes, Red Fox Powersports has the most updated technology on website design, 100% secure shopping cart, self-checkout, user friendly search engine, Detail and accurate specification, exclusive photos and videos of the product. Our goal is to make sure our customer's money is well spend.
4. Can I place my order over the phone?
A: Yes, contact us at and our well trained staff is ready to help you to pick the best one that is suitable for you. Although some time the phone calls could be busy and you may have to wait on the line, you can always reach us by using the live chat or send us a email (usually live chat is the faster route). To place phone order, please call 877-266-2148
5. How can I make sure the one that I want is in stock before I place my order?
A: You can contact us either by phone, live chat or email to confirm the availability before you place the order.
6. Why is there a 2nd color choice?
A: Due to large demand and limited quantity, a 2nd choice color will help your order to get process smooth incase the 1st choice color is just happen to be out at that moment. But if you absolute need your 1st choice color, just put the 2nd choice color as the same as your 1st choice color.
7. What is 80% and 85% package?
A: This means the package is a factory package which require assembly and fine tune (vary by models). If you are not a mechanic yourself, we strongly suggest you to take our PRO Fully Assembled with Ride Test Package.
8. How fast will I get my order if I pick the rush process?
A: If you select rush process we will ship your order out within 24-36 hours.
9. When can I expect my shipment?
A: This will depending on many factor such as the product, package that is choose, weather , destination and freight carrier schedule and your location, but under normal circumstance it should take anywhere around 5-10 business days.
10. I just placed my order, what should I expect from there now?
A: After you order has been placed, our customer service team will start process your order, they will first make sure your order complies with all security standard and then submit order to the shipping department for freight schedule. At the same time, warehouse will prepare your order for shipping too. The above procedure should be complete within 24-72hrs after you have placed the order. Once the freight carrier picked up your order then you can start track the package by using the tracking number provided by us to you via email.