A Low-Pressure Tire Gauge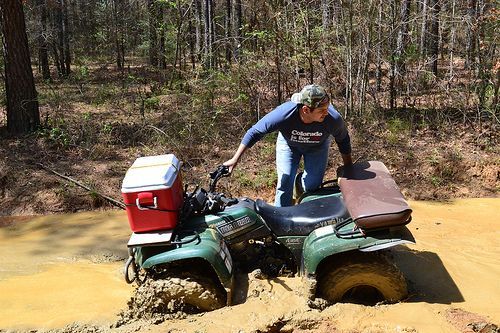 Image via Flickr by thigpen.rober
ATVs require lower tire pressure in comparison cars. It does not make keeping them at the right pressure any less important, though. Riding on an ATV that does not have the right pressure in its tires increases the likelihood of accidents, not to mention it won't handle the way it should. Knowing the pressure also makes it easier to adjust when riding an ATV through the snow or sand.
T-Wrenches
T-wrenches are a staple at any mechanic's shop because they have so many potential applications. Anyone who handles vehicles on a regular basis uses wrenches constantly. But they are also easy to lose. T-wrenches, however, tend to stick around. They come in different sizes to fit just about any need. An entire set is not needed for to fill up your toolkit, either. Choose the ones you use most often and keep them in your kit to deal with any issues that come up.
Tire Plugger
Getting a flat tire is the most unexpected part of owning any vehicle because it's an unpredictable issue. Anything from a rough trail to a nail in the tire can result in a flat. So having a tire plugger on hand while out and about saves time and gets you back on the road fast. It's compact and worth having around when an unforeseen problem arises.
Zip Ties
Zip ties are quite possibly one of the greatest inventions ever in life. They hold wires and all sorts of other day-to-day items together. When something goes wrong with your ATV, zip-ties can mean the difference between being stranded and returning home safely. Use them to hold a broken part together or to secure something on your ATV while in motion. They're lightweight, so having a few in the toolbox won't weigh you down.
A Small Flashlight
Finding a problem is nearly impossible if you can't see it. That's why having a small flashlight to fit in your kit is essential. Even if the sun is shining, you're still going to have a problem seeing in the dark, tight spaces in and under your ATV without a small flashlight handy. Just make sure to either check the batteries regularly or get a rechargeable one that you top up before heading out.
Every ATV owner has tools that they prefer to keep in their toolkit when the unexpected comes up. Being safe while riding on an ATV is the most important part of owning one. The tools introduced here ensure a safe ride while helping you find and address a variety of the most common issues.
Re-post our material is not allowed without permission.
Redfox Off-Rode ATV Collection