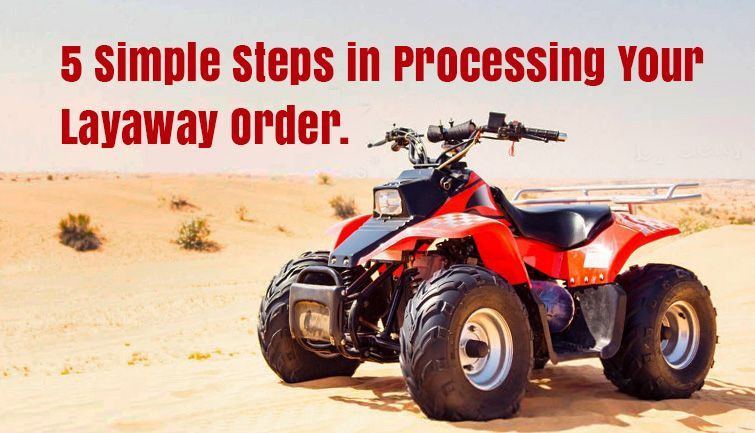 Once you pay off your purchase, we will ship your order and you will be able to enjoy your vehicle.
Place purchase order online
Have down payment ready (The flat Rate varies by Model)
Your order will be reserved
Log-in to your account monthly and make payment (up to 6 months period to pay off)
Once your final monthly payment has been received, we will start processing your order and ship out.
ALL LAYAWAYS MUST BE REDEEMED WITH IN 6 MONTHS OF INITIAL ORDER.
THE DOWN PAYMENT IS TO RESERVE YOUR ORDER AND WILL CREDIT TOWARD TO YOUR ORDER BALANCE, Down payment usually about 20-30% of the total order
ONLY AFTER THE FINAL PAYMENT IS RECEIVED, WE WILL PROCESS AND SHIP YOUR ORDER
ANY LAYAWAY ORDER THAT DID NOT COMPLETE THE FULL PAYMENT AMOUNT WITHIN 6 PAYMENT WILL RESULT A 1% STORAGE PENALTY FOR EACH ADDITIONAL STORAGE MONTH
(1% of the order total amount)
(Example: Your order total $1000, the 1% storage penalty will be $10 for each additional month)
ALL LAYAWAY ORDER CANCELLATION WITH RESULT A 10% RESTOCKING FEE+1% STORAGE FEE FOR EACH STORAGE MONTH
(10% of the total order amount+1% of the total order amount)
Red Fox Powersports reserve the right to update or modify any terms without prior notice, check your account for complete detail terms and condition on layaway.
Look for the FREE LAYAWAY SIGN for eligibility.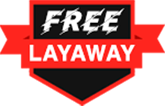 Special Financing Available via Layaway Payment.
Create an account to start, or check for more details.
Detailed Instruction on how to use Layaway