With 3,600 miles of off-road trails in the Black Hills National Forest, it's no wonder South Dakota residents love their ATVs. And that is just one place to ride in the state! Of course, roads open to all traffic in the Black Hills National Forest require you to have insurance, as does riding on any blacktop road in the state. Even if you plan on sticking to the trails, there are some good reasons to carry insurance on your ATV.
On-Road Paperwork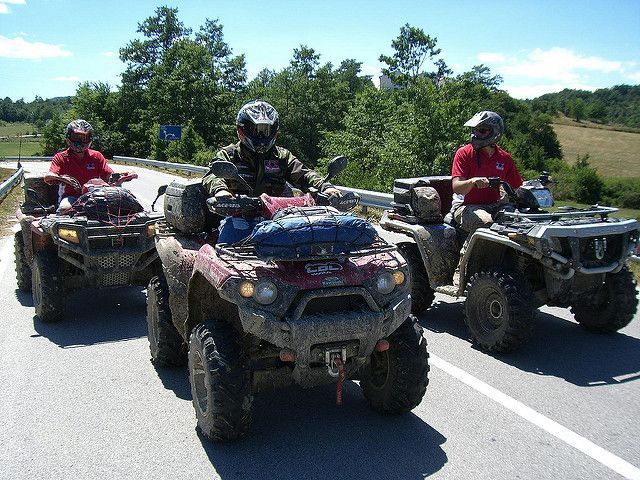 Image via Flickr by lupiquadclub
The most popular reason to purchase ATV insurance in South Dakota is simply because you want to take your ATV out on the blacktop. To maintain legal insurance coverage in South Dakota, you will need to have both liability coverage and uninsured or underinsured motorist coverage. 
Liability coverage covers any damage you do to another person's property. If you have an accident and take out the neighbors mailbox, liability coverage will buy them a new mailbox. 
The minimum liability coverage you must carry is $25,000 for bodily injury or death per person, $50,000 for bodily injury or death to multiple people in an accident, and $25,000 for property damage. 
Uninsured or underinsured coverage will cover you should someone without insurance, or without enough insurance, hit you. We all hope everyone follows the rules, but this coverage is there because we know not everyone does. 
Once you have your insurance in place you are ready to get your ATV titled and registered. Fill out the South Dakota Application for Title and Registration form, grab your bill of sale, and head down to your county treasurer's office to complete your registration. 
Other On-Road Requirements
Once you have your insurance there are a few things your ATV will need before it can be driven on the road. First, your ATV must have at least a 200cc engine. ATVs designed for small children cannot be registered as road worthy.  You will also need to equip your ride with turn signals, headlights, a rearview mirror, a brake light, and a license plate light. Of course, your license plate should also be attached to the ATV for the license plate light to light up. 
Helmets are required for those under 18 years of age, and goggles or eye protection are required for everyone if there is no windshield. Just like when operating a car, you should also have a valid driver's license before you hit the blacktop. 
Off-Road and Optional Insurance Coverages
If you plan on keeping your ride off-road or even if you don't, there are some optional insurance coverages you should consider. No one ever plans on getting into an accident. Having a little bit of extra coverage will go a long way if your plans go awry. 
Collision coverage will cover the costs of your ATV if it is damaged in an accident. Say you misjudge a turn and slide into another ATV damaging both. Liability coverage will cover the cost of fixing the other person's ATV, collision insurance will cover the cost of fixing your ATV. 
Comprehensive coverage pays for damage not related to an accident. If you upset your significant other and they spray paint your ATV, that is considered vandalism and would be covered by comprehensive coverage. This coverage would also cover things like theft or flood damage. 
An auto loan or lease coverage is a good idea if you financed your ATV and may even be required by the finance company. This coverage will cover the difference between the amount you owe on the vehicle and the current value. This is especially helpful if you happen to crash into a tree head-on.
Trail Permits
If you plan on riding in the Black Hills National Forest or any other designated forest around the state, you will need an OHV trail permit. The permits are available from the National Forest Service and will run you $20 for a weekend or $25 for a year-long permit. These fees help the forest service keep the trails clear for you to enjoy and help fund the policing of people who don't always follow the rules. 
ATVs are a blast to ride in South Dakota, or in any other state. If you plan on riding on the road, get all of your paperwork together, make the mods to your ride and visit your county treasurer's office. If you plan on riding in a national forest, grab your gear and get your permits before you go. No matter if you plan on riding on or off-road, it is a good idea to have insurance just in case an accident occurs. 
Re-post our material is not allowed without permission.