Utah residents are lucky. Unlike residents of many other states, they have the ability to legally drive their ATVs on the road. Of course, this privilege comes with a few rules and regulations — like obtaining insurance. The state of Utah requires you to have insurance if you want to drive on the road legally. Even if you aren't planning on driving on the road, having insurance is a good idea.
What Should My ATV Insurance Cover?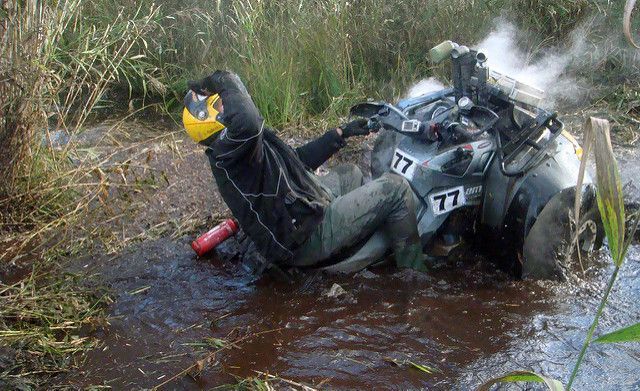 Image via Flickr by toivo
Utah requires the same insurance coverage for ATVs as it does for cars. That means liability and personal injury protection are both required before you can take your vehicle on the road.
The minimum coverage required for liability insurance is $25,000 per person for bodily injury, $65,000 per accident for bodily injury, and $15,000 per accident for property damage. You will also need a minimum of $3,000 in personal injury protection.
Talk to your insurance agent about different deductibles or adding a little extra coverage to your policy. Higher deductibles will mean lower premium prices, and a little more coverage will mean higher premium prices, but each person's situation will be different. Talk over the pros and cons before you make your decision.
Optional but Recommended Coverage
There are a few types of optional coverage you might want to consider for your ride or that may be required if you have financed your ATV. Uninsured motorists, collision, and comprehensive are all great things to have, even on a machine you don't plan on riding on the road.
Uninsured motorist coverage will cover you if you're in an accident with an at-fault driver who has no insurance of their own. Collision will cover the costs of replacing or repairing your vehicle if you are at fault in a collision. Comprehensive will cover damage to your vehicle from anything not related to a collision, such as vandalism, theft, or natural disasters.
On-Road ATV Rules and Regulations
You already know you need insurance, but of course, that isn't the only thing you need to drive your ATV on the road in Utah. The rules are very similar to keeping your car legal on the road. You need a title, and you will have to register the ATV. Once you have registered your machine, the state will issue you a license plate the size of a motorcycle plate. You will also need to have your ride inspected once a year.
Once you have gotten all of that done, your machine is ready for the road. There are a few more rules you need to know about before you go blazing down the highway. First, you cannot drive on interstate highways. Four-lane roads are fine as long as they aren't designated as an interstate. Just keep to the right and move with the direction of traffic, and you will be good to go.
Also, keep in mind that the speed limit for an ATV traveling on roads with a speed limit over 45 mph is 45 mph. If you are riding on roads with speed limits lower than 45, the lower speed limit applies to you, too.
Required Safety Equipment
Before you can get your ATV inspected, you will need to make some modifications. The following is a list of all the required equipment your ATV will need to pass inspection in the state of Utah.
A working headlight
Working tail lights
A license plate light
Rear reflectors
Brake lights
Turn signals
Brakes other than a parking brake
A horn
A muffler and emission control system
Many ATV's will come equipped with everything you need to be road worthy. Talk to your dealer before you throw down your cash to see what you will and won't need to add.
Licensing and Safety Courses
Riding on the road? Riding off the road? Either way, you need a valid drivers license to operate an ATV. Operators who are under the age of 16 will need to take an approved OHV safety course and keep the certificate with you while you are operating. Keep it on you and keep it protected.
Speaking of protection, riders under the age of 18 will also need to wear a helmet with a DOT-approved safety rating for motorized vehicles. Riders over 18 are not required to wear a helmet, but it's never a bad idea.
Riding on the road is great fun, and the state of Utah makes it easy for you to do it legally. You will need insurance, but it's good to have that anyway. You might not think you will ever need insurance, but it's better to have it and not need it than to need it and not have it.
Re-post our material is not allowed without permission.