Rampart Range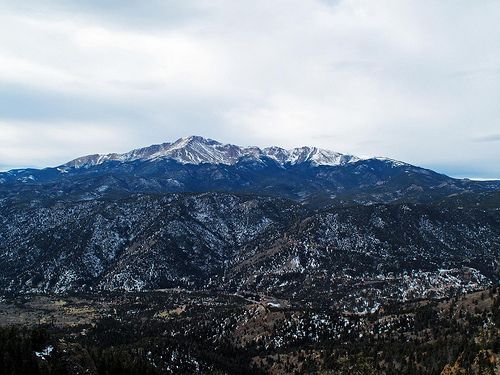 Image via Flickr by Brokentaco
Rampart Range is a motorized recreation area a few miles south of Denver. The park has been in service for more than 50 years, and over that time it has built up 100 miles of trails made for dirt bikes and ATVs. The history of some of the trails goes back even further, since stage coaches used to run through the area.
As a result, Rampart Range is a good place for beginners, although with 100 miles of trail you can be sure there are some expert-level stretches. It's also a good place to start out because it's free to use. The park is managed by the USDA Forest Service and a volunteer nonprofit, so all you'll need is a permit for your off-highway vehicle. Just keep in mind that because of how close it is to Denver and because it has no fee, Rampart Range can sometimes get crowded.
Hardscrabble Pass
Between the towns of Gypsum and Eagle and Hardscrabble Mountain in the White River National Forest is a stretch of hills and mountains owned by the Bureau of Land Management. All throughout the hills and passes you'll find roads and trails that can handle all kinds of vehicles. Unimproved gravel roads are flat enough for any vehicle, and let you reach the trails you want. But for other roads you need a 4x4 off-road vehicle (ORV). Plenty of trails allow ATV access, but for others you'll need a dirt bike. There are even a few trails that only allow mountain bikes and one path that's just for hiking.
Check out our ATV and Dirt Bike Collections.
White River National Forest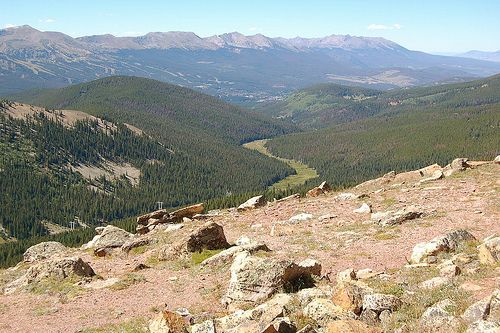 Image via Flickr by bdearth
If you reach the southern edge of Hardscrabble Pass, you can keep going and explore the many off-highway vehicle (OHV) trails that cross through the 2.3 million acres of White River National Forest. With almost a dozen tall mountain peaks and 11 ski resorts, White River sees plenty of adventurous visitors each year, and it won't disappoint you if you bring an ATV or a dirt bike.
One of the standout OHV trails in White River is the Crystal Lake Trail behind Breckenridge. It's a hard trail to navigate, but if you can make it you'll find yourself in an alpine meadow next to the beautiful Lower Crystal Lake. From there you can hike two miles up the creek to the Upper Crystal Lake. Not only are the lakes lovely, they also give you a great view of Crystal Peak and Peak 10 of the Breckenridge Ski Resort. For an easier but equally beautiful trip, try the Boreas Pass Road. The road is level enough for normal vehicles to use, but OHVs are also welcome. Boreas Pass Road starts in Breckenridge by winding its way around Illinois Gulch and the Blue River Valley, and it then wanders past Bald Mountain and Boreas Mountain, crossing the Continental Divide along the way. The road ends in the tiny town of Como.
Slaughterhouse Gulch
Also known as the Crow Creek Loop, Slaughterhouse Gulch is a looping moderate-to-easy trail west of the town of Bailey and Crooked Top Mountain. The trail is big enough for off-road SUVs and trucks to navigate it, but you can get a different kind of experience by taking an ATV or a dirt bike. You can also find a couple of mud holes through which to splash. Depending on what you're driving, you should be able to complete the 8.2-mile loop in about an hour. Just don't expect a breathtaking view, because the trail sticks to a few deep valleys. Stillwater Pass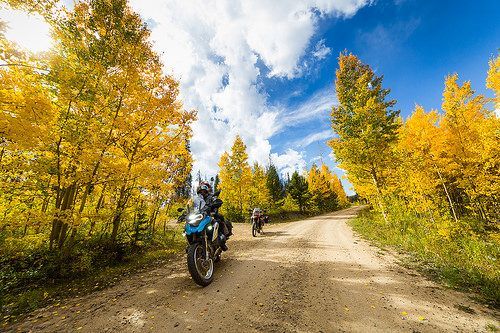 Image via Flickr by Pierce Martin
North of Arapaho National Forest and south of Grand Lake, Stillwater Pass is a wilderness area with plenty of spots for camping and fishing. It also has 46 miles of beautiful and mostly easy trails open to hiking, unpowered bikes, and OHVs of every description. That includes snowmobiles during winter.
With so many national forests and public wilderness areas in Colorado, you don't have to look hard to find good places to explore on an OHV. Whether you're looking for a challenge or an easy trail to practice your skills, the trails and areas on this list are some of the best in the state.
Re-post our material is not allowed without permission.
Redfox Off-Rode ATV Collection