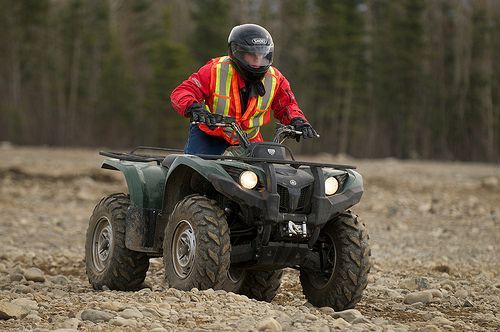 Image via Flickr by Joint Base Elmendorf-Richardson
An all-terrain vehicle is a motorized off-highway vehicle that is 50 inches or less in width. The vehicle weighs less than 1,200 pounds, is meant to travel on three or more tires, has a seat that is straddled, and handlebars for steering. Although ATVs are single operator vehicles, there are also two-rider ATVs, which can carry a passenger.
When driving an ATV, safety is the most important thing. Anyone younger than 16 years old, must wear a helmet, even as a passenger. ATV's must not be operated on public roads, streets or highways in Florida, unless given permission by the relevant authorities. What Is an ROV?
A recreational off-highway vehicle is any motorized recreational vehicle that is 60 inches or less in width with a dry weight of 1,500 pounds or less that is meant to travel on four or more non-highway tires. ROVs have seating that is not straddled, and a steering wheel. Motorized go-karts fall into this category.
What Is an OHM?
An off-highway motorcycle is a motorized vehicle that is used off the road; it has a seat or saddle for the rider. It is on two wheels and excludes tractors and mopeds.
What Is an OHV?
ATVs and OHMs are categorized as off-highway vehicles. An OHV is used off the road and isn't licensed for use on the roads. Although they need to be titled in Florida, they do not need to be registered because they aren't allowed on the highways.
The Laws Regarding OHVs
ATVs, ROVs and OHMs can't be operated on public roads, streets or highways, however they can be used on an unpaved public road with a speed limit of under 35 miles per hour during the day.
Anyone under 16 years of age who is riding one of these vehicles must be supervised by a licensed driver. They must also pass a safety course, and wear eye protection, over-the-ankle boots, and a helmet.
No passengers are allowed unless the vehicle is designed like a two-rider ATV, which is meant to carry an operator and a single passenger. Where Do You Submit Your Application for Certificate of Title?
You can submit your applications to the Florida Tax Collector's office. When Should an OHV be titled?
All off-highway vehicles purchased by a Florida resident after July 1, 2002 should be titled. All off-highway vehicles purchased by a Florida resident before July 1, 2002 that is used on public lands also needs a title.
Where Do You Place the Decal?
Be sure to place the decal in the proper place on your OHVs or you may be cited by law enforcement.
On an ATV, the decal should be placed on the left rear quadrant on permanent plastic or a metal frame so that it is clearly visible on inspection.
On an OHM, the decal should be placed on the left fork leg, where it is clearly visible from the left side of the bike.
On an ROV, the decal should be placed on a flat surface of the left rear of the body of the vehicle, so that it is clearly visible by anyone outside of it.
It's not difficult to abide by the OHV laws in Florida. Information is freely available to you. ATVs provide so much fun to families when they are operated responsibly. OHV recreation provides great social and bonding family time together. One of the advantages of riding ATVs is that it is a wholesome physical outdoor activity that can be enjoyed by people in such a wide age and ability range.
Other benefits of ATV riding include keeping in shape physically as it requires you to exert energy on your rides and enjoying it as a great stress reliever because of the focus required. All else is pushed aside from your mind and you easily forget about your problems in a healthy way. So, be sure to get all the legalities in order so that you and your family can enjoy this great outdoor sport in Florida without the worry of any compliance issues.
Re-post our material is not allowed without permission.
Redfox Off-Rode ATV Collection