Patten to Island Falls
For those in the north of Maine, the stunning Patten ATV trail is hard to beat. It runs north, right along the Mattawamkeag River at some points. The majority of the trail is lined with trees, but the spots where you come up next to the river are even more amazing. The 20-mile trail and the tree-lined river are favorites among riders. You will also appreciate a filling stop at the River Cafe when you get to Island Falls. Have a meal, enjoy views of the river, have some dessert, and then get ready for your trip back to Patten.
This is a great ride that you can do in a couple of hours, but it's even more fun if you take your time and enjoy the scenery (and food). Since it is 40 miles total, be prepared for a good amount of riding and make sure you have all the gear. Pack something warm for when the temperature drops in the afternoon. The trail is well-kept, mostly flat, and not too demanding. That being said, be careful if it has rained in the last few days. It will be a muddy ride if the ground is still damp.
It's always best to employ the buddy system and ride with at least one friend. However, the Patten ATV trail makes a great activity for a big group. If anyone in your group doesn't have their own ATV, don't worry — there are a number of rental facilities offering daily and hourly rates. There are also two other great trails leading out of Patten. The trails to Bible Point and Shin Pond are both 60 miles round-trip. They offer well-kept trails similar to what you will find on the Island Falls ride. Bible Point will be the best choice for history buffs and fans of U.S. President Teddy Roosevelt. Bible Point is a spot near Mattawamkeag Lake that Roosevelt used to visit on his frequent hunting trips to the area before becoming President.
Endless Trails out the Front Door of Your Cabin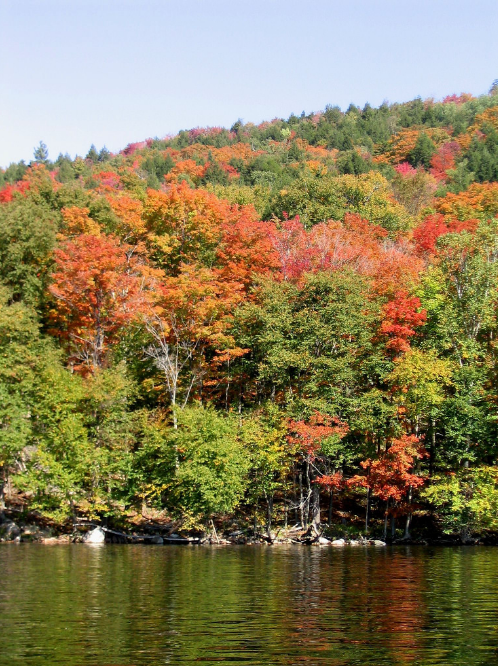 Image via Flickr by Robbie1
For those who want to ride the best trails and have them all to themselves, there is no better option than renting a cabin in the Forks area of Maine. Here, you can rent a cabin, condo, lodge, or even tent. It really depends on what level of luxury you are looking for. Northern Outdoors Adventure Resort has a comprehensive guide to all the best ATV-friendly lodging in the Forks area. They even include luxury ratings so you can decide if you want to "rough it" or "live it up" in a luxury condo. Regardless of your level of luxury, you will be able to ride your ATV right up to your doorstep (or tent).
Check out our ATV Collections.
All of the lodging in the Forks area links to an endless ATV trail system. In fact, some of the lodgings can only be reached via ATV. You can ride for hours, even days, without hitting the same trail twice. You'll want to make sure you keep your map on you so you can always find the trail home. These trails aren't as well-marked as those in Patten, but they are kept up and offer a wider variety of terrain. In the Northern Outdoors Adventure Resort area, you can reach scenic vistas, wild rivers, and wide open lakes. All are easily accessed with an ATV. However, the resort offers much more than just endless ATV trails. Mountain biking on well-groomed single track is perfect for those more comfortable on two wheels, or you can take a whitewater rafting tour. You can also get your fill of hiking, fishing, and just about any other outdoor adventure.
The more adventurous can partake in true backcountry ATV tours. For this approach, you will definitely need to be knowledgeable about the region and backcountry camping. Alternatively, consider hiring a guide.
Seeing the fall colors transform from the seat of an ATV is hard to beat, and Maine is definitely the place to do it.
Re-post our material is not allowed without permission.
Redfox Off-Rode ATV Collection