Houghton Lake and St. Helens
Houghton Lake and St. Helens are two neighboring towns that are both great jumping-off points for an ATV adventure in central Michigan. They're right on the border of the Roscommon State Forrest Area. The lakes are both close to Houghton, which is an accessible town where you can find everything you need to ATV and camp, including plenty of fast food and even a Wal-Mart.
More importantly, you can find all types of lodging in the area, from rustic cabins to luxurious chalets and more affordable hotel chains. Houghton is an ATV- and boat-friendly town, so there is plenty of trailer parking no matter where you stay.
Locals love doing "ATV weekends" from Houghton Lake. There are a range of lakeside trails, but you can go for a climb if you want to get among the trees and get a nice view of the area. Geels Trail and St. Helens Trails are two trails that overlook Lake St. Helen. Denton Creek trail to the south of Houghton has a great view of the lake. In fact, Denton Trail connects with St. Helen Trail, which then connects to Geel Trail. You can really traverse the area and see a lot of scenery on this great trail system.
Roscommon Area itself does not allow ATVs, but the foothills and mountains to the east have plenty of ATV trails, rental facilities, and everything else you need for a great weekend paired with some beautiful fall foliage. In fact, Houghton and St. Helen are hubs of ATVing in central Michigan. There is even an annual ATV Jamboree in August. People here are serious about ATVing, so you know the trails are going to be top notch.
State Parks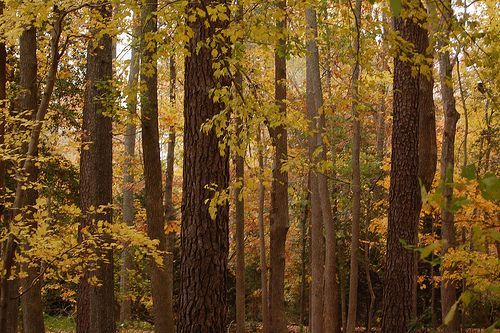 Image via Flickr by Joanna Lee Osborne
While Roscommon does not allow ATVs, there are now five state parks in Michigan that are ATV-friendly. When you ride your ATV in a Michigan state park, you can be assured that the trails will be well-maintained, safe, and near camping spots. However, this is not to say that you can't find some remote, wild trails to really get lost in the fall leaves. You can also expect to pay a fee to bring your ATV into the park (in addition to any entry or camping fees).
The following state parks are ATV-friendly:
Bewabic State Park in Iron County
Baraga State Park in Baraga County
Twin Lakes State Park in Houghton County
Muskallonge Lake State Park in Luce County
Clear Lake State Park in Montmorency County
Check out our ATV Collections.
Upper Peninsula
The Upper Peninsula is another popular hub for ATVing. Much of it is wilder and more remote than what you will find in central Michigan. Since it is further north, it is also a bit colder, so you don't want to get out there too late without the proper cold-weather gear. In fact, many of the trails are actually used for snowmobiling during the winter. Nonetheless, the wider expanses of the Upper Peninsula — particularly areas like the Big Carp River Valley in the Porcupine Mountains, Ottawa National Forest, and Hiawatha National Forest — are great for adventurers.
The trails in the Upper Peninsula are numerous, and they vary from in difficulty levels. The Forest Island trail in Enscaba River State Forest on the banks of Lake Michigan is a 20-mile loop that is very well-maintained. the slightly shorter Cranberry Lake trail is 8 miles each way. It is suitable for ATVs but not side-by-side ATVs over 50 inches wide. Ottawa East Connector Trail is an ambitious 79 miles each way. Most who take this trail will camp (and possibly hunt) en route. It's beautiful but very remote, so keep that in mind when it comes to packing supplies.
There are so many safe and wild places to ride ATVs in Michigan. As the sport becomes more and more popular, you can expect even more trails to pop up. Of course, it always best to travel in groups. Remember that you need to have an ORV license to operate any ATV vehicle within the state, and make sure you are doing it legally and respecting the habitat. Going off trails can be hazardous to the fall foliage and the local inhabitants.
Re-post our material is not allowed without permission.
Redfox Off-Rode ATV Collection