Tennessee is more than the home state for country music and the former home of Elvis Presley. If you love the outdoors, it's the perfect place for you. Miles of wilderness and places for hiking, fishing, rock climbing, and other outdoor activities are spread throughout the state. If your interests include off-road thrills, then you're in for some of best off-road trails in the country. Let's take a look at the most popular places for riding and other adventures.
Windrock Park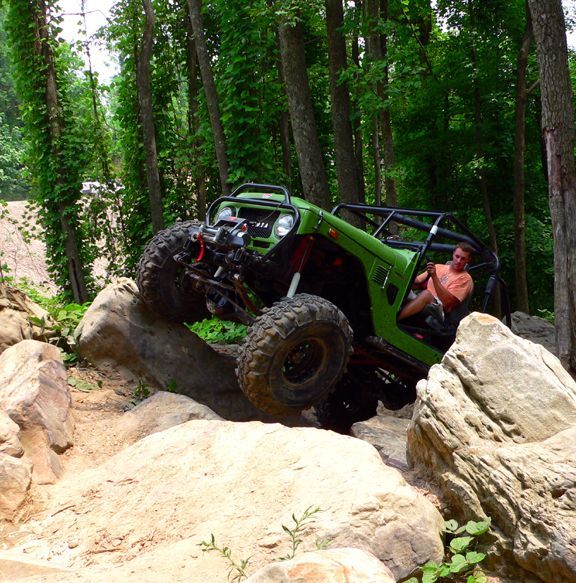 Image via Flickr by Mary and her camera
A great spot for off-road vehicles, Windrock Park welcomes ATVs, side-by-sides, dirt bikes, mountain bikes, Jeeps, 4x4s, dune buggies, trucks, rock crawlers, and rail buggies. The park spreads over 72,000 acres of land with over 300 miles of trails. Plus, this spot offers miles of hiking, clean campgrounds, and a shooting range. It's located in Oliver Springs, Tennessee in the eastern part of the state. Check the park schedule for special events held throughout the year.
Trails End Campground
Just a short three-minute drive from Windrock, you'll find Trails End Campground near the Kentucky border. This site offers access to some of the best off-road trails in the state. Whether you own an ATV, motorcycle, Jeep, truck, or any other off-road vehicle, Trails End offers 600 miles of multi-use trails. The area sits in the North Cumberland Wildlife Management Area, 150,000 acres of wilderness prime for exploring. There are three connected trail systems: the New River Unit, the Royal Blue Unit, and the Sundquist Unit. One permit serves as permission for riding these three linked areas.
The North Cumberland Area hosts the only elk herd in the eastern United States. Whitetail deer, wild turkey, and beavers also make their home there. The lake offers bass and bluegill for the fisherman, and the cerulean warbler, an endangered songbird, also nests nearby.
Ride Royal Blue
If you're looking for more than just trails, visit the Ride Royal Blue Resort, the largest resort in Tennessee. Enjoy the over 600 miles of trails suitable for all skill levels from slow and casual to heart-pounding courses for the thrill seekers. Splendid mountain vistas, waterfalls, and grazing elk surround you throughout the 200,000 acres of wilderness. The area offers cabins, RV spots, and tent camping spots plus a full-service restaurant with catering.
Turkey Bay
The centrally located Turkey Bay features various topography and trails for every rider, even those just beginning. There's lake access for personal watercraft and amphibious vehicles also. Trails are color-coded, yellow being the easiest courses, orange for a little more challenging ride, and blue for the most experienced drivers. In addition, the red challenge area has acres of steep, washed-out hill climbs for those looking for the ultimate adventure.
Even the youngest riders have their own area. The mostly flat Trot Trail, surrounded by fencing, offers basic undersized obstacles such as small rocks and logs, sharp turns, and a few hills as good training for the beginning driver. The Trot Trail only allows riders 16 and under, and helmets are the rule for all riders. The Turkey Bay recreation area draws visitors from around the globe with its 300 miles of natural shoreline and one of the largest undeveloped forests in the eastern United States.
For a complete vacation at Turkey Bay, don't miss the Woodlands Nature Station, the Elk and Bison Prairie, the Homeplace 1850s Working Farm, and the Golden Pond Planetarium.
Wooly's Off-Road Club
Located in south-central Tennessee along the border with Alabama, Wooly's welcomes all kinds of off-road vehicles. The many trails feature rock ledges, mud holes, gullies, steep hills, and rocky ditches. Purchase permits for two consecutive days and camping is free.
Golden Mountain Park
Home to 45 off-road trails spread across 500 acres of land, Golden Mountain offers some of the toughest trails in the southeast. This central Tennessee spot allows motorcycles, ATVs, OHVs, Jeeps, trucks, UTVs, and stock vehicles. There are park pavilions, campsites, RV hookups, and a bunkhouse for rent.
Adventure Off-Road Park
Not far from Golden Mountain is Adventure Off-Road Park. This park lets you bring SUVs, trucks, buggies, side-by-sides, and ATVs. The park features 120 trails on 500 acres with the skill levels ranging from beginners to experienced riders. There's also camping, and amenities include bathrooms, showers, RV hookups, and a pavilion. No matter what vehicle you enjoy going off-road with, the state of Tennessee offers many different areas with exciting trails. With the mountains and vast wilderness areas, the state lends itself to the off-road enthusiast. So, gather your wheels and head out on your next vacation to enjoy riding the trails of Tennessee.
Re-post our material is not allowed without permission.
Our Scooter Collection
Our ATV Collection
Our Dirt Bike Collection