Scooters and mopeds are a great way to get around, especially if you are in downtown Cincinnati. If you plan on zooming down to Abby Girl's and grabbing a cupcake or going down to the stadium to catch a Red's game, it's a good idea to have all your legal ducks in a row before you leave.
Scooter or Moped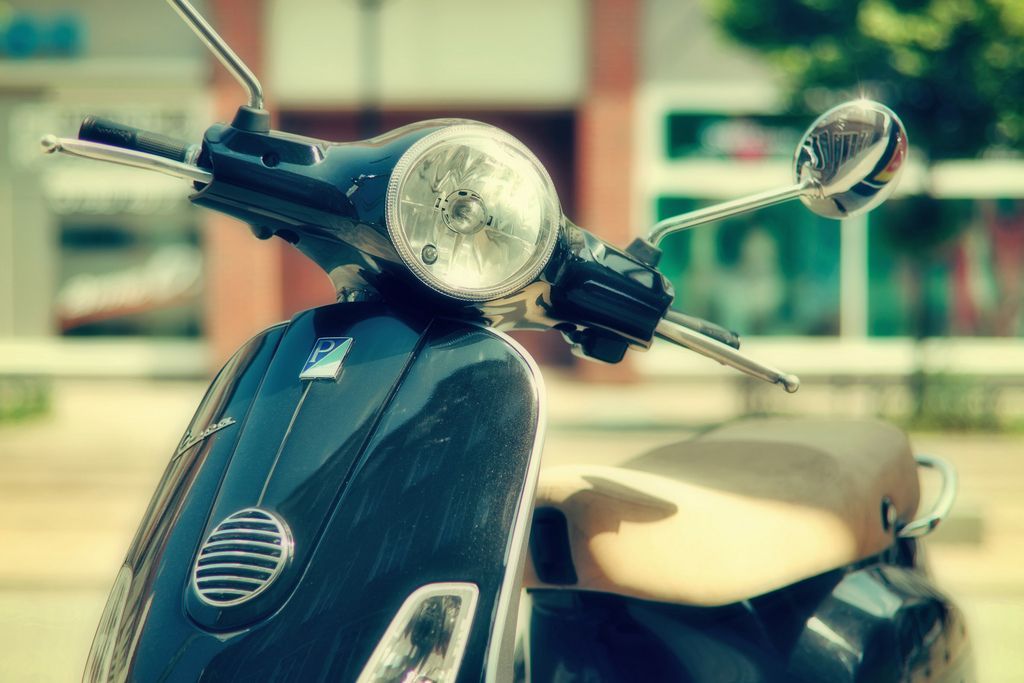 Image via Flickr by frank-hl
The state of Ohio recognizes only two classes of two-wheeled vehicles: motorcycles and motorized bicycles or mopeds. To be considered a moped, the vehicle you are motoring around on must meet a few requirements:
Tires must have a minimum inflated size of 19 inches.
It must have pedals and a helper motor.
The motor must be less than 50cc.
The motor must not be capable of producing more than 1 hp (sorry mod fans!).
The bike cannot go over 20 mph.
If the bike doesn't meet any of these requirements, it is considered a motorcycle. Scooters generally fall into the motorcycle category and require all the licensing and registration required of a Harley Davidson.
Types of Licenses
To go along with the two categories of bikes in Ohio, there are also two categories of licenses required: a motorized bicycle license and a motorcycle license.
Motorized Bicycle License
To get a motorized bicycle license, you must be at least 14 years old. This license only allows you to operate a moped, so no borrowing mom's car. To get the license, you will need to go through similar steps for getting a driver's license.
First, you will need to pass a test on the digest of Ohio motor vehicle laws, so study up. Once you have passed the knowledge test, you will be given a vision test. If you can tell the P's from the R's, you will be granted a temporary motorized bicycle license.
After practicing, you will be required to complete a basic skills test to be fully licensed to operate a moped.
Motorcycle License
In the state of Ohio, you can get either a motorcycle only license or have a motorcycle endorsement added to your regular driver's license. Either way, you must be 16 years old to obtain the endorsement or license. Again, if you get the motorcycle only license, it applies only to driving motorcycles, so you can't borrow dad's truck either.
A motorcycle license has more requirements than the motorized bicycle license. Besides taking the general knowledge exam, you must also pass a written motorcycle test, complete a basic rider's course, and complete a basic skills test. If you have a scooter, you can take the riding portion of the test on your scooter. Is it Roadworthy?
Whether it is a scooter or a moped, it must be considered road worthy to be ridden on any public roadway. For a moped to be considered roadworthy, the bike must be equipped with a rear license plate and rearview mirrors.
For scooters, you will need all the accoutrements of a motorcycle. That means turn signals, brake lights, a horn, rearview mirrors, and a headlight. Mini-motorcycles are not considered road worthy in the state of Ohio.
Rules for Mopeds
Since scooters are considered motorcycles, they fall under all the rules and regulations of the motorcycle laws. Mopeds are a different story. If you are under 18, you must wear a helmet with a fastened chin strap. Yes, fastened. No carting your friends around either. No passengers are allowed on mopeds, no matter how old you are.
You must also stay below 20 mph and stay within three feet of the edge of the roadway. In case you were thinking of taking route 71 up to Cleveland to catch a Browns game, don't do it on a moped. It's illegal and you would probably be squashed anyway.
Titling, License Plates, and Registration
If you have a moped, a title and insurance are not required. However, you are required to register your moped and buy license plates for it. Registering it will require your motorized bicycle license, proof of residency, and proof of ownership.
If you have a scooter, you will be required to have a title, insurance, and a valid motorcycle license or motorcycle endorsement to get your plates and your registration. Keep in mind that titles are not issued at the BMV but at the county clerk's office in the county you live in.
Ride Ohio
Scooters and mopeds are a great way to see the sights and beat the traffic in any of Ohio's big cities. If you are under 18, keep your helmet on and fastened. If you are on a moped, stay off the big highways and freeways. Scooter riders get full motorcycle privileges, so if you want to trade your Vespa for a Harley, you are already legal.
Re-post our material is not allowed without permission.
Our Scooter Best Sellers