Florida, with its year-round warm climate, is a terrific place for riding scooters. Think of cruising the beaches on these small motorized bikes and no wonder their popularity keeps rising. Scooters cost less than cars, get great gas mileage, and are fun to ride. Plus, they're easy to ride, especially for people uncertain about handling a full-size motorcycle. But before you hop on this bike, make sure you know the laws and regulations concerning scooters or you'll face a hefty fine for violations.
Who Can Ride a Scooter
In order to ride a scooter, you must be at least 16 years old and hold a regular Class E driver's license. Adult riders, 21 and over, holding a motorcycle only license are also eligible to ride scooters. Scooters or mopeds with engines of 50cc or less do not fall under the motorcycle category in Florida. But there are still rules and regulations for these smaller vehicles.
Definition of a Scooter in Florida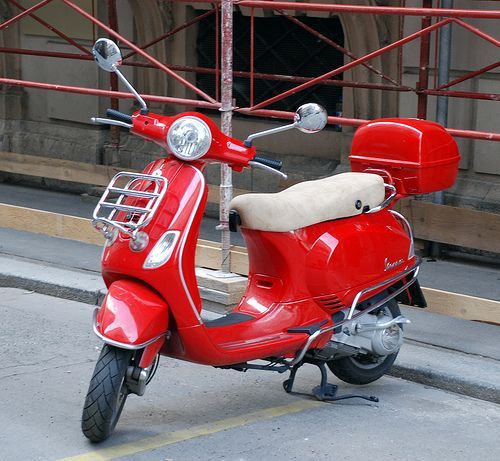 Image via Flickr by akk_rus
For scooters to fall under the correct classification and not as motorcycles, your scooter needs a seat, no more than three wheels, a two-brake horsepower or less, drive a maximum of 30 mph, use an automatic power-drive system, and have an engine of 50cc or less. Any vehicle exceeding these guidelines is a motorcycle and subject to different laws for registration and driving.
Registering Your Scooter
Just as with cars and motorcycles, you must register your scooter with the Florida Department of Motor Vehicles. If you bought your scooter from a dealership, the dealer takes care of the titling and registration process. If you bought your scooter from a private seller, you must register at a Florida tag agency. You'll need the following documents for registration:
Original title with transfer section completed
Application for Certificate of Title With/Without Registration
Proof of insurance
Completed Florida Insurance Affidavit
Notice of Sale and/or Bill of Sales for a motor vehicle, completed by the seller
For mopeds and scooters with 50ccs or less, you do not need proof of insurance but it's always a smart idea to buy coverage. If you're involved in a crash without insurance coverage, not only are you responsible for paying the damage, but your license and/or license plate is subject to suspension for up to three years. If you're replacing or renewing your Florida registration, remember all unpaid parking tickets must be paid prior to the process. Renew your registration every year and the cost varies depending on the type of vehicle, but most scooters cost only a few dollars.
Helmet Laws
The helmet laws in Florida are slightly confusing. According to the statues, in order to operate or ride a motorcycle, you must wear protective headgear securely fastened upon the head. This complies with the Federal Motorcycle Vehicle Safety Standard set by the United States Department of Transportation. Florida does allow for two exceptions to this rule. Persons over 21 years of age do not need a helmet if they're covered by an insurance policy with at least $10,000 in medical benefits for injuries in case of a crash.
The other exception applies to scooters with 50cc engines or less, two-brake horsepower, and not capable of going over 30 miles per hour. Of course, wearing or not wearing a helmet is your decision, but numerous studies show helmets help prevent deaths and brain injuries. According to the Department of Transportation, you're 37 percent less likely to die and 67 percent less likely to sustain a traumatic brain injury in the event of a crash if you're wearing a helmet.
Other Protective Devices
In Florida, you must wear eye-protective devices when operating or riding a motorcycle. Wearing a pair of glasses when driving a scooter or motorcycle keeps the elements and road debris from irritating your eyes or causing difficulty in seeing. Wear tinted glasses during the day and clear lenses at night.
Lane Splitting or Lane Sharing
You cannot drive between two adjacent lanes of traffic. Florida law specifies cars and other motor vehicles have full use of their lane. It's dangerous to drive between lanes and many accidents occur because of people doing just that. It's okay for two riders to drive side-by-side in the same lane. But again, it's safer to stagger while traveling with another rider and side-by-side riding is highly discouraged.
Phone Use While Riding
Texting while driving is illegal for all drivers whether in a car or on a motorcycle or scooter. Keep your phone in the scooter storage compartment so you are not tempted to use it while riding. Being responsible means being safe and following all the road rules. By doing so, you'll enjoy a safe journey and not risk fines or injuries.
Re-post our material is not allowed without permission.
Our Scooter Collection