ATVs are fast and fun. For many, the faster they go, the more fun the ride is. If you want to push yourself and your ATV to the limit, you need to have the proper safety equipment. These are much more than just toys. These are fast, powerful machines that can be dangerous if you are not wearing the right safety equipment. When it comes to personal safety, the helmet is the best place to start.
You will eventually want to invest in other safety and riding gear, but your first step should be to buy a helmet. When it comes to ATV and motocross, not just any bike or motorcycle helmet will do. Here are the four most important things you should look for when shopping for an ATV helmet.
Helmet Certifications
First of all, you want to make sure that you only buy a fully certified helmet. Different countries have different certifications. Because of this, some products will have a bunch of certifications stated on the packaging or in the online description. The helmet will also have a certification sticker, which you are required to leave on, located in the interior of the helmet. You might see some have a bunch of acronyms representing certifications from other countries. Americans should be looking for a "DOT" and/or "Snell" certification. DOT (Department of Transportation) is the government mandated certification system. Any helmet with a DOT approval is safe to wear both on and off-road. This means that the helmet has been impact tested.
Snell is an independent certification system, but it is very commonly used. If a helmet has both a DOT and Snell certification sticker, you have double the assurance that it is a quality helmet.
If your helmet has a hard, protective chin guard and face shield, they should also have their own certification. That is, some helmets will meet both DOT and Snell standards, but the face shield and chin guard will not. The face shield and chin guard are usually separately tested and certified, which means you need to look for two more unique acronyms. The face shield should have ANSI Z87.1 certification. ANSI stands for American National Standards Institute. A rated chin guard will have a VESC 8 certification. VESC stands for Vehicle Equipment Safety Commission Standard.
As you can see, there are quite a few possible stickers and certification badges that should be plastered on your helmet. At the very least, you want one for the helmet (DOT or Snell), one for the chin guard (VESC 8), and one for the face shield ANSI Z87.1. As mentioned, there probably will be other certifications to show that the helmet also meets European safety standards.
Comfort is Key
Of course, having a certified helmet is just the first thing you should look for. You also need to try the helmet on to make sure it is comfortable. Comfort is not just a matter of luxury, it is really a matter of safety. If your helmet is uncomfortable, it could affect your riding. If your helmet hurts your head and impairs you in any way, you won't be able to ride safely. If your helmet is too big or too small, you won't be able to use it properly. A helmet that jangles around on your head because it is too large is going to be especially miserable when riding bumpy, off-road conditions.
Visibility is Vital
Along with comfort, visibility is also very important. You obviously want to be able to see where you are going and see the other riders around you. Make sure you check the visibility and mobility of your head whenever you try a helmet on.
Not only do you want to be able to see, you might also want to be seen. This is why so many manufacturers make a number of their ATV helmets in bright colors. Since there are often no marked paths, trails, or roads, there is real danger of collision when riding in certain areas. This is something to consider, even if you aren't racing or competing. Having a brightly colored helmet is going to give you a little more protection from other riders who might be a little more aggressive and/or careless.
So try on a few different helmet styles to make sure you find one that has the right fit, comfort, and visibility for your head. Often, it is just a matter of finding the right brand or model for your head shape. One is sure to fit perfectly and once it does, you will know right away.
Reasons to Buy a Full Face Helmet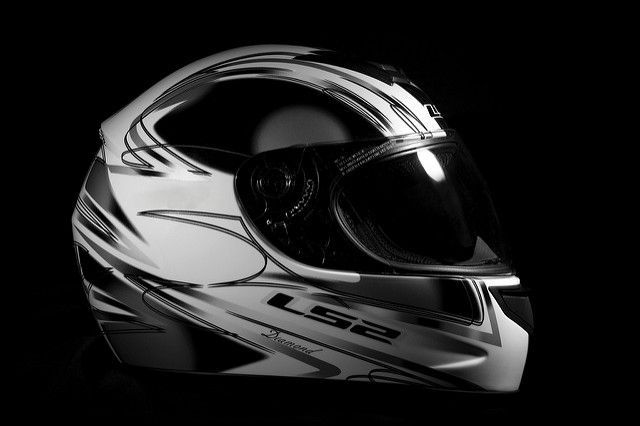 Image via Flickr by 9GIX9
Of course, not every helmet you look at will have full-face protection. As long as your helmet is certified, most states don't require a full-face helmet for ATV riders. But, there are many reasons to invest in a full-face helmet, besides the extra safety it provides.
First of all, a full-face helmet covers your ears and reduces the wind noise. The noise from the wind can be disorienting. Not only can it make it hard to hear other riders, it can make it hard to hear yourself and your own machine. The muffled sound a full-face helmet offers will make your riding safer and more pleasant. A full-face helmet also protects you from bugs. When riding in the open at high speeds, even a small bug to the face can be dangerous, not to mention gross. If a bug hits your eye it is going to hurt and could cause a lasting injury. Having face and eye protection is just smart. Eye protection will also keep your eyes from drying out, which is a huge issue when riding in the desert.
With this basic knowledge of what to look for when buying an ATV helmet, you can make a more informed purchase. This is a big decision because the right helmet not only makes your rides more enjoyable and comfortable, it can also save your life.
Re-post our material is not allowed without permission.