RED FOX POWERSPORTS ORDER PROCESS TIME FRAME DETAIL
YOU WILL EXPECTED TO GET YOUR MERCHANDISE IN (ORDER PROCESSING TIME + SHIPPING TRANSIT TIME = HOW MANY) DAYS
Please note , our customer service representative will contact you by phone to verify your order before order will be processed and shipped. All order will be start process after the phone verification is completed, for customer who pay rush processing fee, we encourage you to contact us by phone or email as soon as you order is completed.

We will process and ship your order within 2 to 3 business days (by different package) after your payment and conformation is received. Orders received on weekends and holidays will be processed on the next business day. All orders placed on Friday after 1:00 pm PST will be processed from the following Monday. During holiday season, due to extremely high volume, it may take up to 2 to 5 business days to process orders. In order to processing your order smooth, your clear information and instruction are important.
YOUR ORDER PROCESSING TIME (WITHIN 2-3 DAYS)
Total Delivery Time is split into two parts: Processing Time and Shipping Time. Please use the chart below to help you gauge the Total Delivery Time of your order.
If you choose Standard Processing with your checkout, please use the chart below (Please reference to processing time by package below):

If you choose Rush Processing with your checkout, please use the chart below
There will be not rush processing for any orders that require to fill out shipping authorize form, if you pay for it already, we will refund you.

HOW TO TRACK YOUR PACKAGE AND WHEN TO EXPECT THEM
Once the order has been shipped, you will be providing with a tracking number and a shipping carrier website address via email. You can track the package once the shipping carrier picked up the shipment, simply go to the website we provided you with the shipping confirmation email and enter the tracking number at the specify area to get the most recent update on your shipment and your expect delivery date.
Please keep in mind if we are delivering to your residential address, the freight carrier must contact you by phone to confirm a delivery date and time before they can dispatch the driver to delivery to you. Delivery will not be attempt if no schedule has been confirm over the phone, please keep in mind it is very important to confirm the delivery date and time with the carrier. Carrier's contact information is listed on their website which you will need to contact them to schedule the delivery date and time.
SHIPPING TRANSIT TIME (HOW FAST THE CARRIER DELIVER YOUR PACKAGE)
All vehicles such as ATVs, Pit bikes, Scooters, Buggies are insured at their full purchase value when shipped. Please note that we cannot be held responsible for any incidents associated with the shipping company or unexpected events, weather that may cause delivery delays. This map is showing the approximate transit time for most of the shipping carrier.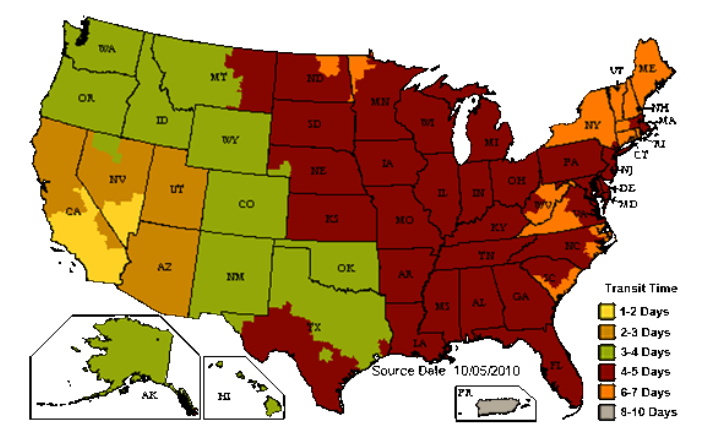 SHIPPING INFORMATION VERIFICATION (THIS MAY DELAY YOUR ORDER)
For placing order by credit card, your shipping address has to be verified if it is different to your billing address. We will ask you to fill out an authorization form and signed. Your order may be delayed to ship until we receive your signed
For wire transfer, Cashier Check or Money Order Payment orders, we will ship your order on the day the fund is cleared into our account. Customer is responsible for correct entering the shipping information and contact information, wrong or miss typo may cause delay on your order.
SHIPPING CARRIER (WHOM YOU EXPECT TO DELIVER TO YOU)
For merchandise less than 120lbs/box, it will be shipped by UPS Ground & Express, FedEx Ground & Express or USPS Priority services.
For merchandise over than 120lbs/box, it will be shipped by professional LTL trucking company (UPS Freight, FedEx Freight, SAIA Freight, Daylight Freight, R&L Freight, Roadrunner Freight etc.). Carrier driver will contact the customer to arrange deliver appointment with contact information provided.
MERCHANDISE RECEIVE (WHAT CONDITION WILL YOU EXPECT TO GET)
All merchandise you expected to receive will be brand new condition with perfect packaging. Customer is responsible to inspect the received package, and to list any shipping damages (Wet, Oil Leak, Holds on the Package), you see to the outside of the box on the bill of lading, as well as take photos of the damage. Truck drivers can be pushy, but to insure proper reimbursement and a prompt resolution, all damages must be reported to Redfoxpowersports.com as well as the shipping company upon delivery. In most cases the driver has the ability to contact their office and request a claim number for you on the spot. Contact Our Customer Service rep for details.
SHIPPING TO PR / HI / AK AND OVERSEA
For shipment to Hawaii, Alaska, Puerto Rico and overseas, please email us or call us at for shipping fee quote. Free Shipping Discount is not apply to these locations.