Whether you work in the mountains at a national park or a ski resort, UTVs are essential for finishing tasks, hauling loads from one point to another, or navigating safely in an emergency. You want to make sure you are safe, equipped, and able to deal with any situation. Here are seven handy UTV accessories you shouldn't be without when working in the mountains.
Accessory #1— UTV Bumpers and Guards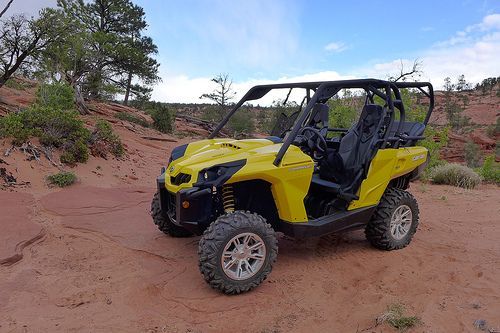 Image via Flickr by slashvee
No matter how careful you are, you are bound to have a little fender bender at some point or another. Bumpers and guards help minimize damage to your UTV. A low-impact "bump" can lead to an expensive repair bill. Bumpers absorb the shock from low-impact accidents. These accessories work together to protect your car's critical parts from significant damage. Furthermore, guards also provide further protection to your vehicle in higher-speed crashes. It lessens the damage to areas like your headlights, radiator, battery, and engine.
Accessory #2 — UTV Hitches and Frame Supports
Chances are your job entails towing additional cargo. If that's the case, purchasing a hitch as well some frame support accessories is essential. Hauling extra cargo with your UTV can damage your vehicle and lead to costly off-road disasters. Buy a sturdy UTV hitch so that you can transport loads safely. Additionally, without frame support, the constant bumping and jarring from the mountain terrain will damage your UTV's frame. These two UTV accessories basically pay for themselves in their utility.
Accessory #3 — UTV Lift Kits
Get better ground clearance and suspension speed with a lift kit. The lift kit allows you to get more clearance, which Is very handy when driving in high brush, mud, and other rough conditions. Furthermore, a lift kit allows for larger tires to increase suspension travel.
Accessory #4 — UTV All-Terrain Enclosures
Working in the mountains and driving a UTV guarantee you will experience harsh weather conditions and flying debris. A UTV roof protects you and your vehicle.
It minimizes your direct exposure to the sun.
It shields you from weather elements like rain, wind and flying debris.
It protects your UTV's interior.
Accessory #5 — UTV Seats and Harnesses
UTV stock seats are comfortable when driving long periods. If you work somewhere like a national park, you probably spend a lot of riding time in your UTV. Upgrading your seat not only makes your ride more comfortable, but it can also increase your safety. For example, ATV suspension seats will reduce how much g-force your body absorbs. Additionally, if you want to minimize how much you jostle around when you drive, add a proper harness to your UTV must-have accessories list. Not only will it make your ride more comfortable and give you more driving control, but it also increases your safety.
Accessory #6 — UTV Winches
What do you do if you get stuck in the mud and you are alone? Having proper accessories allow you to deal with unexpected situations. Make a UTV winch your riding partner when traveling alone. It comes in handy with pulling your UTV out of sticky situations where another person is usually needed. Make sure you purchase the accessories you need for your winches, like a mounting kit, cable, and gears.
Accessory #7 — NUT Windshield
Lastly, a UTV windshield not only protects you from the mountainous landscape, it preserves your side-by-side's interior. While a roof is excellent overhead protection, it depends on a windshield's function or its efforts are in vain.
A side-by-side without a windshield is still at risk. Rain, sleet, snow, and debris can lead to dangerous scenarios including accidents. If you are driving in severe weather conditions like hard rain, it can obstruct your view. Furthermore, outside elements like flying rocks, dust, and other debris can cause serious injuries.
Not only will you deal with weathering elements, but there will also be nothing keeping the bugs from littering your mouth, eyes, and face. This too can lead to consequences.
A windshield protects you and helps preserve your vehicle's interior. Without one, the inside of your UTV will rapidly deteriorate from the weather and debris.
Lastly, a windshield helps retain your UTV's structure, and it supports the roof.
Riding in a UTV is fun — even on the job. These seven accessories increase your driving quality, safety, and ability to deal with emergency situations safely. It also minimizes the risk of serious injuries that would keep you from being able to work. In summary, the right accessories will protect you and others, your vehicle, and your job.
Re-post our material is not allowed without permission.