The United States, with its variety of terrain types, is a great place for off-roading. From mountain trails to sand dunes, it offers virtually endless options for off-road enthusiasts. Every state has trails, parks, and specialized facilities for off-roading, but some states offer better opportunities than others. Find out why these six states are the most popular destinations for off-road adventures.
Tennessee
Tennessee has been attracting an increasing number of off-road enthusiasts thanks to its numerous off-highway-vehicle (OHV) recreational parks. One of the state's most famous OHV parks is the Brimstone Recreation Area in Huntsville. Encompassing an area of more than 19,000 acres and offering more than 300 miles of trail-riding, this park has been dubbed the "Disneyland for OHV enthusiasts." Some of the trails run alongside scenic rivers, while others take you through lush hillsides, offering an intimate experience of the area's natural beauty.
Home to the Southern Appalachian Mountains and other well-known outdoor destinations, Tennessee also has many multi-purpose trails where you can ride your off-road vehicle. These include the Window Cliffs State Natural Area, the Horsecove Gap Trail in Cherokee National Forest, the Persimmon Loop Trail in Chattanooga, and Prentice Cooper State Forest.
Utah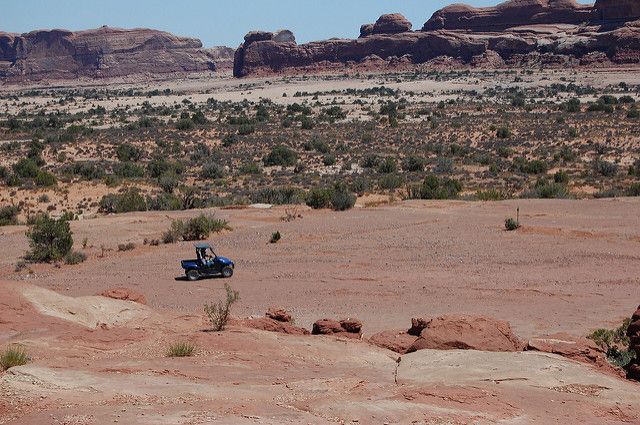 Image via Flickr by CubanRefugee
Utah has also become a more popular place for trail-riding, mostly due to the Moab, which is filled to the brim with awesome national parks, red rock trails, and canyons. Due to its unique terrain and geological formations, the area offers an off-roading experience that's unlike any other.
In addition to the Moab, you can also have thrilling rides in many areas across the state, including Hell's Revenge and Potato Salad Hill Trail in Rotary Park, Skyline Drive in Uinta-Wasatch-Cache National Forest, Cathedral Valley Trail in Capitol Reef National Park, and the Valley of the Gods Road Trail at the Mexican Hat.
California
If you enjoy riding on sand dunes, you should visit California. It is home to the famous Imperial Sand Dunes Recreational Area, which is widely regarded as the best sand dune-riding destination in the country. Also known as the "Glamis," this park in southern California spans 40 miles and has an average width of 5 miles. The dunes offer varying levels of difficulty, so, whether you're a beginner or an expert, you can expect to have a great time.
California also offers numerous options for riding on mountain, desert, or lakeside trails. Check out the Old Mount Baldy Trail in the Angeles National Forest, The Slot in the Anza-Borrego Desert State Park, Trabuco Creek Road in Cleveland National Forest, and the Sardine Lakes in Tahoe National Forest.
South Dakota
The main reason many trail riders have been flocking to South Dakota is the Black Hills National Forest. Covering 13,000 acres on the border of South Dakota and Wyoming, this national forest offers more than 600 miles of off-road trails. In addition to extraordinary natural beauty, it also features a great variety of landscapes, from open grasslands to dense forest areas.
Although the Black Hills National Forest is more than enough to satisfy all of your trail-riding desires, you can also try other popular trails and OHV parks, such as the Oahe Downstream OHV Area in Fort Pierre, Railroad Buttes in Farmingdale, the Red Lake Trail in Savoy, and Spearfish Quarry in Spearfish.
Wyoming
The Black Hills National Forest makes Wyoming a fantastic trail-riding destination, but the state also has many other national parks and forests with OHV trails. These include the Bighorn National Forest with the East Tensleep Trail and the Story Penrose Trail, Grand Teton National Park with the Phillips Ridge Trail, and Targhee National Forest with the Indian Creek Loop.
Hawaii
If you want a completely different off-roading experience, plan a trip to Hawaii. Kipu Ranch on the island of Kauai gives you the opportunity to ride in a tropical environment and encounter wildlife that can't be found anywhere else in the country. The 3,000-acre park is also home to many instantly recognizable movie locations.
While you're in Hawaii, you should also go for a spin on the Diamond Head Trail in the Diamond Head State Monument, the Papakolea Green Sand Beach in Naalehu, the Ka'ena Point Trail in the Ka'ena Point State Park, and the Mauna Kea-Humu'ula Trail in Kamuela.
Going riding in different states gives you opportunities to gain new skills and experience a diverse selection of natural settings. However, you should be aware that OHV laws vary between states. Before hitting the trails, make sure to read up on the laws in the state where you'll be riding.
Re-post our material is not allowed without permission.