The Pacific Coast Highway, or PCH, is one of the most interesting and picturesque places a motorcycle rider could explore. Passing along the California coast, riders will see not just excellent ocean views, but also vineyards, mountains, forests, and more. This is to say nothing of the countless mom and pop shops and curious attractions that line the roadways. The question then becomes, what stops should you mark on your map and make time for? Take a look at these four can't-miss PCH stops for motorcyclists.
Glass Beach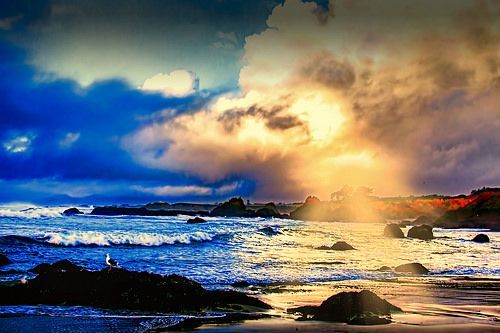 Image via Flickr by bluesbby
Glass Beach was once an old garbage dumping site on Elm Street, one turn off Shoreline Highway in Fort Bragg. Ironically it has left an attractive, thought-provoking mix of unnatural objects made beautiful by nature.
Once you park, you take a short walk down Glass Beach Trail until you reach the shore itself. Every inch is covered in dulled sea glass from all the bottles dropped into the ocean, making it easily the most colorful beach in the world. In an amusing twist, this beach is now considered a protected natural asset, and picking up any glass to take with you is illegal.
If you feel like enjoying other natural attractions on this part of the PCG, Glass Beach is also close to MacKerricher State Park, which has campgrounds and amenities. You'll find the more vast sections of the beach in that park, as well.
Fort Ross
This historic Russian compound, now an outdoor-indoor museum, was created by a Russian-American company in the 19th century to produce agriculture and livestock for Russian settlements up in Alaska. With Alaska still largely a new and undeveloped territory, the Russian settlers in the cold state needed as many nearby sources of food as possible. Just look for Fort Ross Road while on U.S. 1 and you'll find this unique museum.
Fort Ross has several buildings that speak to its Russian origin, all guarded by the high fort palisades. You can see the old orchards, cemetery, armory, windmill, and even a barracks for defense. Be sure to visit during the day and make time to explore the nearby bluffs. You may spot sea lions lounging by the water, and some areas actually lead you down for a swim!
Point Bonita Lighthouse
The PCH is dotted with interesting lighthouses you could stop at, so picking only one was a challenge. Point Bonita deserves mention, however, because of the beautiful location a half-mile off the main shoreline of San Francisco Bay. While many lighthouses are set on the shore and use their height to catch the attention of nearby ships, Point Bonita has a shorter house that goes much further out into the water. What's more, it's one of the few lighthouses that is still used today as a navigational aid.
The long hike to reach the lighthouse is a nice way of stretching your legs and getting a particularly special shot of the ocean. The path cuts through a tunnel in a large rock, but before that you'll see how high above the water you are, so those with vertigo should be careful.
Point Bonita is easy to find as long as you get on highway 101 and exit on Alexander Ave, like when approaching the Golden Gate Bridge. Then just get off on Conzelman Road and follow the signs.
Cannery Row
Once you're passing through Monterey, make a stop in the downtown area at Cannery Row and check out some of the amazing food, drink, shopping, and culture. If you're more interested in a quiet, indoor attraction to rest from your journey, make some time to check out Monterey Bay Aquarium.
Cannery Row is easy enough to get into if you take the Del Monte interchange exit to Lighthouse Avenue. The more important logistical challenge is parking in such a busy area. Be prepared to walk a little to get to your intended destinations. That said, navigating through Cannery Row is easier on a motorcycle than in a car. This famous downtown area is an awesome place to get some great food, rest in a nicer hotel, and return to your bike refreshed and eager to hit the highway once again.
With so many unique views, detours, and stops to check out on the PCH, your only real limit is how much time you have for the adventure. Riding your motorcycle north or south down the PCH is already a grand tour of California, but what will really stand out are the places that draw you to a temporary stop.