Florida may not be the hilliest or most mountainous state in America, but that doesn't mean you can't face some intense hills, bumps, and other obstacles on the state's most difficult dirt bike tracks and trail systems. If you're tired of basic, kid-friendly dirt bike offerings and want experiences you won't soon forget, make time to visit these six awesome places around the Sunshine State.
Gatorback Cycle Park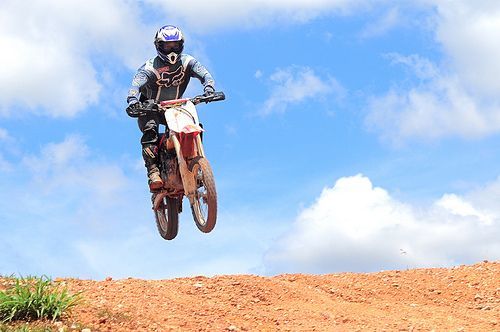 Image via Flickr by Brandon LLW
Out in Alachua County is an open, unshaded expanse of grass as far as the eye can see, home to several dirt bike and ATV tracks ranging from intermediate to expert. With roughly 100 acres of wide-open space, Gatorback Cycle Park is a great place to spend the day.
The tracks are mostly loose dirt and straightforward, so it's a good place to test your speed more than your endurance against obstacles. Specifically, you'll find supercross, vet, and hare scramble tracks at Gatorback. While not too heavy on terrain challenges, the dirt tracks offer plenty of big and small jumps and side berms to ride.
Apalachicola National Forest
This park is full of ATV trails, many with soft sand and mud. The paths get waterlogged after a short rain, so as long as the park is still open, try it out then for an especially grimy and difficult ride, dodging puddles and maneuvering over higher ground. There are many berms and most of the paths are sand. Overall, you're better off bringing a larger dirt bike than a smaller one. Camping is not permitted in the area, but for a small fee you can relax under a shaded picnic area by the beach and use the barbecue grills.
Bone Valley ATV Park
This new ATV park in Polk County has 200 acres of wild Floridian land with 15 miles of one-way wild OHV trails, plus hill climbs and training areas. Most hazards are marked and you'll face a good variety of terrain, from hard and soft dirt to sand and rocks. If the popular Hardee Lake County Park is reasonably close to where you live, try Bone Valley, only 15 miles away, on your next visit.
Croom Motorcycle Area
Set within Withlacoochee State Forest, this Central Florida park contains a 2,600-acre trail system for off-highway vehicles, dirt bikes included. While Croom offers training areas and smooth, well-graded trails for beginners, countless miles of naturally rugged terrain have been left alone. Definitely check out Croom Motorcycle Area if you're more a fan of wild trails than man-made tracks.
Considering how much Withlacoochee State Forest has to offer, it may be best to plan a weekend getaway by staying at the Buttgenbach Mine Campground, which will let you stay near the motorcycle area. Croom Motorcycle Area has all sorts of muddy terrain, open fields, dirt hills, stark forests, and other examples of Florida's uncompromising natural landscape. Keep an eye out for ghost deer, wild turkey, and other wildlife.
Hard Labor Creek Off Road Park
A smaller but popular spot for camping and off-road thrills, Hard Labor Creek offers 40 miles of one-way trails through raw oak and pine forests. There are plenty of markings for obstacles and directions, but that's all you'll get for help because the trails are full of sharp twists. The park hosts two dirt-biking races every year — an enduro in September and a hare scramble in October. Most of the ground on the trails is the naturally sandy Florida soil, which can be tricky on berms and big jumps, of which you'll find many.
The other great reason to check out Hard Labor Creek is that it is made exclusively for dirt bikes, so you won't see ATVs or other vehicles clogging up the paths. Take note, before you go, that this park closes during rainy and other inclement weather.
Tate's Hell OHV Trail System
Perhaps the most traditionally Floridian off-road trail attraction in the state, Tate's Hell has over 150 miles of dirt roads running through swamps and pine flatwoods. Be on your guard, because the open, wild space is known to have all sorts of wildlife, including black bears and panthers. Tate's Hell OHV is also close to Apalachicola National Forest and offers similar terrain as that location.
One of the best things about Florida is that, unlike in many other states where dirt bike tracks and trails are weather-dependent, most places are open throughout the year. Take advantage of the sunny days and your powerful dirt bike by checking out any of these options that are convenient and suit your biking style.