Back in the day, your go-kart was probably powered by the same engine as your lawnmower. These go-karts were noisy and sputtery, but an accessible version of big-time racing fun. However, as new technologies have become available and the go-kart industry has continued to evolve and improve, modern go-karts, both gas and electric, are taking the world by storm. Improvements in battery and electric motor technology have enabled some serious electric players in the go-kart world. Yet there's still nothing like the growl of a gas engine and the action of rowing through gears. Both gas and electric karts seriously deserve your consideration. How do they compare?
Power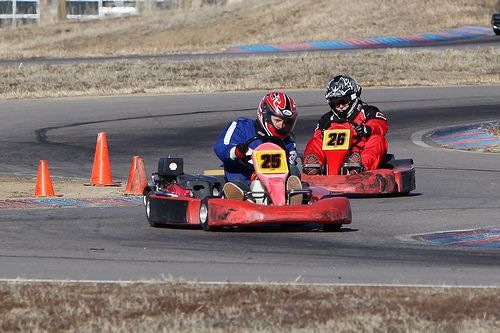 Image via Flickr by wsimmons
The pedal feel of a gas machine versus an electric is distinctly different. The electric will leap ahead while the gas takes some time to wind up. A gas engine has a power band midway between idle and redline where it delivers the most grunt. That's why they have multi-gear transmissions so that the driver can stay in that band.
Electric karts typically have no transmissions. They're all power band. So an electric will beat a gas kart off the line, but will it stay ahead? Once the gas machine gets cruising it will be capable of a higher top speed.
Drive them both. They have very different personalities.
Refueling
Here's the huge difference. An electric cart typically needs a minute of charge for every minute of run time. Recharging could take 30-45 minutes. Although you can charge slowly while plugged into the wall, quick charges require special high-voltage equipment.
When your gas kart runs low, pour another gallon in it and get back out there. While electricity is as close as your nearest socket, gas is only as far away as the corner store.
So if you're driving all day, maybe the gas is right for you. If you're buying a fleet for a kart track, realize electric cars will experience serious downtime. You'll need more.
Maintenance
Remember that thing about no transmission? There are a lot of mechanical bits not necessary on an electric kart. That's fewer things to go wrong. It's a one-speed motor and a battery with hardly any fluids to worry about.
Gas karts have a lot of greasy systems that could fail, from carburetion to gears to cooling. Diagnosing a problem could take a considerable amount of time. Yet, for an experienced mechanic, gas go-kart engines aren't calculus. It's the electric ones that are weird and unfamiliar.
When it comes to complexity, an electric kart is a hacksaw while a gas one is a chainsaw, with so many more things to go wrong.
Emissions
You can't run your gas kart indoors without significant ventilation. It smokes, and it smells, while the only aroma coming from an electric kart should be burned rubber. Even a large 200cc kart motor doesn't pollute nearly as much as the truck you towed it with, but it adds up. And yes, electricity is often sourced from coal or other dirty methods, but joule to joule electric karts still use less energy whatever the source.
If you can charge your electric kart on solar, wind, or hydroelectric power you're very clean. If you're setting up an indoor kart track, going all-electric will be much easier from an HVAC standpoint and quieter, too.
Safety
Gas is flammable. You need to follow a strict safety protocol when storing and transferring gasoline. You need to be sure to empty the tank when servicing a gas kart. High-powered machines require flame-retardant suits just like full-sized racing.
Electricity shocks, but in karts, you're probably dealing with no more than 48 volts. That's more than the 12-volt battery starting your gas kart, but notably less than a light socket. Still, care and training are required to service a machine with a powerful and heavy lithium-ion battery.
A heavy battery isn't necessarily a disadvantage, however. Power cells are typically built into flat packs in the floor of the kart, resulting in a low and well-balanced center of mass. An electric kart is, therefore, tougher to flip and stays flatter through corners.
Electric karts often contain wireless speed control. Is someone on your track driving unsafely? Turn them down from a distance.
While gas karts have increased safety concerns, none of them are new. We're familiar with these machines and know how to keep them safe.
Initial Costs
Out of the box, an electric kart will cost you more. It's still new tech. You may need a high-speed charger.
A traditional gas machine will give you more bang for your buck initially, but increased costs of fuel and maintenance will balance out over time.
The disparity increases if you are buying multiple machines for a kart track. You'll have increased downtime while the electrics charge so you'll need more karts to keep all of your guests driving.
If your track is indoors, the emission-free karts will remove ventilation and noise from your list of problems. Yet if your track is already equipped, the point is moot.
The Future
Electric karts are new on the market. As the technology improves, charge times will reduce, run times will increase, and prices will drop. Remember what a flat screen TV cost a decade or so ago? Now you can buy the whole home theater and a couch for the price of an old LCD. Electric kart prices will also shrink as production increases.
As the full-sized electric car market evolves, the karting world will benefit from the trickle down. Contrastingly, the gas market has little room to improve. Lightweight materials, software enhancements, more effective forced induction are improving the efficiency of gas-powered vehicles incrementally, but the growth curve of the EV will be more dramatic.
For today, the gas versus electric version depends on your needs and budget. You'll get into the game cheaper with a gas kart and you'll find more choices. Electric karts are a sound choice for short, punchy drives and indoor facilities. Motorheads will always prefer the noise, vibration, and feel of internal combustion.
Re-post our material is not allowed without permission.