Until now, mopeds and scooters haven't been that commonly used in the U.S.; recently, however, they've been gaining popularity in urban areas throughout the country. Thanks to a low engine displacement, mopeds get anywhere from 70 to 125 mpg, and many mopeds with engines under 50 cubic centimeters (cc) don't require a registration, saving you even more money. If you're looking to join the ranks of moped owners, you have plenty to get excited about, but don't let it overshadow your safety. Before you hop on your inaugural ride, make sure to get a crash course in moped safety.
Closed-Toe Shoes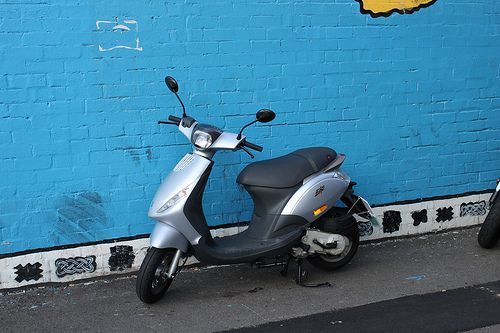 Image via Flickr by variationblogr
Mopeds may conjure up visions of riding along the beach in Italy or Southeast Asia but don't let these ideas convince you that sandals or flip-flops are acceptable attire. Even 50cc mopeds can ramp up to 40 or 50 mph, and if you happen to drag your feet or wipe out, you could be in for a nasty injury. Closed-toe shoes are a must every time you hop in the saddle, and the more durable the material, the better. Steel-toed boots are the ultimate safety option, but any closed-toe shoe is better than a sandal.
Safety Vest
Admittedly, a safety vest isn't the coolest garment you'll ever wear. It's tacky, bright, and not at all stylish, yet that's just the point. When you're wearing a fluorescent orange or yellow vest, other motorists, pedestrians, and riders can see you coming from a distance. This is particularly important at night, on poorly lit roads, or during inclement weather. If you simply can't bring yourself to wear one of these vests, consider a more trendy riding jacket with reflective fabric.
Long Pants
Like the urge to wear flip-flops, you may also want to put on a pair of shorts when you get on your moped, but this just invites trouble. If you fall off your bike, the lower portion of your legs is most susceptible to injury and road rash, especially if you're going at a fair rate of speed. To make matters worse, hospitals typically use a steel brush to remove the dirt, oil, and grime that gets into your road rash wounds. That's why you should put on a pair of pants or jeans. Not only can you save yourself from a nasty wound, but you won't have to worry about someone with a steel brush scraping out your wounds.
Goggles or Eyewear
A helmet with a visor or shield, goggles, and eyewear are essential for preventing eye injuries. While you're on the road, other vehicles can shoot debris, gravel, and other objects into the air. If they happen to strike you in the eye, it can cause serious damage. Eyewear also comes in handy for cutting glare from the sun, as well as making the road more visible if it starts to rain. Just because a moped isn't as powerful as a motorcycle doesn't mean you can skimp on safety gear. Outfitted with the proper attire, you may get helmet hair or look uncool, but if an accident happens, you'll be glad you took the extra precautions.
Re-post our material is not allowed without permission.