Riding an off-road vehicle is a great way to escape the hustle and bustle of city life and get closer to nature. If you live in Illinois and are looking for a place to take your vehicle for a spin, plan a visit to The Cliffs Insane Terrain Off-Road Park. This park offers an extensive variety of terrain types and challenges that will satisfy any kind of off-road rider. Whether you're a newbie or an expert, you can be confident that you'll have a fun time here. Find out why The Cliffs Insane Terrain Off-Road Park is one of the most popular trail-riding destinations in Illinois.
Overview of The Cliffs Insane Terrain Off-Road Park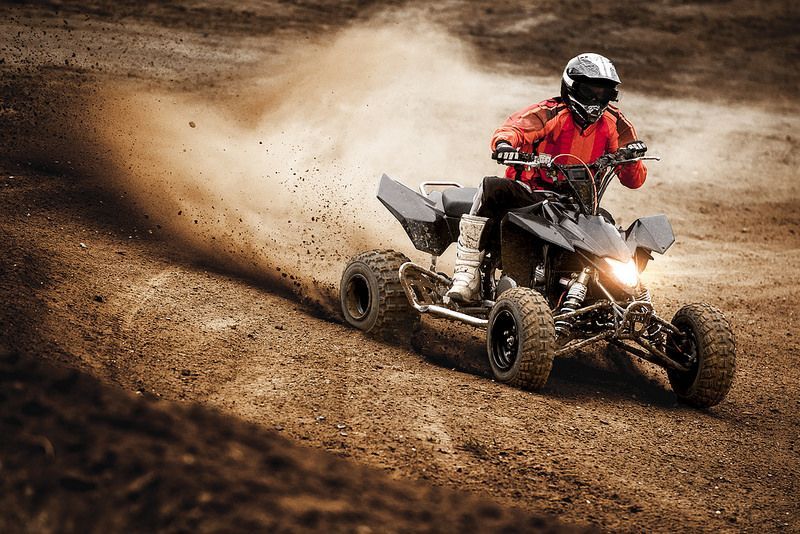 Image via Flickr by Ajithpoison
The Cliffs Insane Terrain Off-Road Park is a popular getaway for off-road enthusiasts in Chicago because it's only an hour's drive away. Encompassing 300 acres, this park allows all kinds of off-road vehicles, including dirt bikes, three-wheelers, all-terrain vehicles (ATVs), utility-task vehicles (UTVs), trucks, Jeeps, and even go-karts. The family-friendly park has routes that vary in difficulty to accommodate riders of all skill levels, and children under the age of 18 are allowed to ride. The park also has a concession stand during all-day events.
Attractions at The Cliffs Insane Terrain Off-Road Park
The main attraction at The Cliffs Insane Terrain Off-Road Park is, of course, off-roading. The park is specially designed to offer an authentic and complete off-roading experience. It consists mostly of muddy surfaces, so be prepared to get dirty.
As you explore the trails, you'll encounter a wide range of challenges, including bumps, hills, tubes, boulders, logs, ruts, puddles, and narrow paths. It's relatively easy to get stuck so, if you're a beginner or a first-time visitor, the park recommends that you take the Troublemakers Guided Adventures tour. A knowledgeable tour guide will help you choose a route that matches your skill level and will provide tips for overcoming different types of obstacles. The park also has a training facility and an obstacle course.
In addition to off-roading, The Cliffs Insane Terrain Off-Road Park offers zip-line and archery tours.
Visitor Information
The Cliffs Insane Terrain Off-Road Park is located on East Route 6 in Marseilles. It's open from Friday to Sunday year-round. It is open between 9 a.m. and 5 p.m. in the summer and between 9 a.m. and 4 p.m. in the winter. The park may also be open on Mondays that are public holidays. 
A day pass costs $25 for adults older than 15 and $10 for children aged 15 and under. You can get an extra day for only $15. If you plan to spend only part of the day there, you can pay $15 to start riding at 2 p.m. If you want to get unlimited access to the park throughout the year, consider getting the year pass, which costs $250. Passengers and bystanders are required to pay $10.
Rules and Regulations
All riders at the Cliff Insane Terrain Off-Road Park are required to follow certain rules and regulations. These include:
Everybody entering the park must pay an admission fee and sign a release of liability waiver at the front office.
No alcoholic beverages are allowed.
Dirt bike, ATV, and UTV riders are required to wear helmets.
With the exception of dirt bikes, all vehicles must have a flag.
All off-road vehicles must be fitted with spark arresters and a muffler.
Vehicles with tires larger than 39.5 inches aren't allowed.
All persons in an SUV or truck are required to wear seatbelts.
Passengers aren't allowed on dirt bikes or ATVs.
SUV drivers must be 16 years of age or older and possess a valid driver's license.
All riders younger than 18 years old must submit a consent form signed by their parents or legal guardians and must be supervised at all times by their parents or guardians.
All vehicles must remain within the boundaries of the park. Entering property that is not owned by the park is prohibited.
All riders must observe the 10-mph speed limit in slow zones and in the parking lot.
Walking or running around the park isn't allowed when vehicles are on the trails.
A special use permit is required for swimming, fishing, hunting, or camping.
Failing to follow these rules may result in a warning, ejection from the park, a fine, or arrest by the Marseilles Police Department.
As its name suggests, The Cliffs Insane Terrain Off-Road Park offers an insanely exciting experience for off-road enthusiasts. While you should let loose and have fun, you have to make sure that you're properly geared and that you ride safely.
Re-post our material is not allowed without permission.