With its amazing natural beauty, diverse landscapes, and abundance of trails, Colorado is one of the best states for off-road adventures. Whether you want to test your off-roading skills on challenging terrains or go for a leisurely ride, you will easily find trails that suit your preferences. Explore these six off-road trails in Colorado.
Boreas Pass Trail
Located in the White River National Forest near Breckenridge, the Boreas Pass Trail is ideal for off-road enthusiasts who want to ride at a leisurely pace in a quiet and scenic environment.
This lightly trafficked point-to-point trail covers 19.8 miles and has an elevation gain of 1,712 feet. It begins in Breckenridge and runs through lush aspen forests before ending at the top of the Boreas Pass. While exploring the trail, you'll see beautiful wildflowers, high mountain peaks, and interesting historic railway sites. If you want to go farther, you can ascend the relatively easy Georgia Pass from the north.
Devil's Canyon Road
Devil's Canyon Road is also good for a relaxing ride. This 5.5-mile loop trail is situated in the Arapaho National Forest near Idaho Springs. With an elevation gain of 1,230 feet, it's good for riders of all skill levels.
The trail starts and ends near a parking lot on Highway 103 and passes a mountaintop where you'll get panoramic views of the national forest and the surrounding area. Most of the trail is easy, except for a steep, rocky spot that can be somewhat difficult. From the trailhead on Highway 103, you can drive a short distance to Mount Evans and Echo Lake, where you can enjoy a wide range of outdoor activities.
Switzerland Trail
Switzerland Trail is one of the most popular off-road trails in the area around Boulder. This 20.1-mile point-to-point trail straddles a historic railroad grade in a mining area near Gold Hill, Nederland, and Ward, and climbs gradually through beautiful mountain meadows in the Roosevelt National Forest. From the narrow-gauge railroad bed, you'll get spectacular views of the Rocky Mountain National Park, the Indian Peaks, and the Eastern Plains.
Argentine Pass Road
Located in the Mount Evans Wilderness near Georgetown, the Argentine Pass Road is an out-and-back trail that stretches for 26.7 miles. Most of this trail ranges from easy to moderately difficult, but it's rocky at the start and narrow near the top. For a more challenging ride, take Route 248.1B to get to the pass. There's also an old railroad grade that leads to the summit of McClellan Mountain. Make sure you check out the historic buildings in the Santiago Mine and Ghost Town. Snow can block the trail until the summer, so you should plan to use it between July and September.
Mount Sneffels Classic Route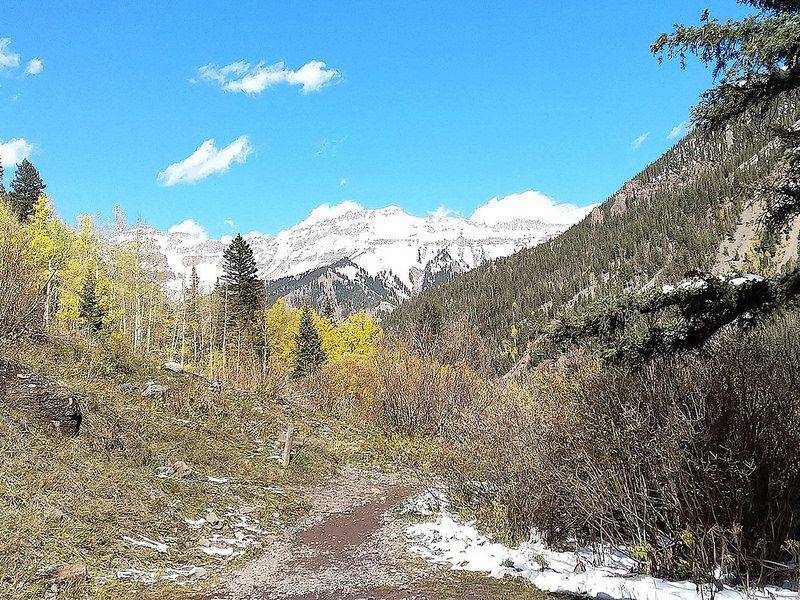 Image via Flickr by dvs
If you're looking for a truly challenging off-road adventure, try the Mount Sneffels Classic Route in the Uncompahgre National Forest near Ridgway. With an elevation gain of 3,261 feet across 6.8 miles, this heavily trafficked out-and-back trail is mostly uphill and includes stretches of scrambling and scree.
When you reach 14,000 feet, you'll have to climb up a V notch to get to the actual summit. Since the climb is so steep, it's not uncommon for riders and hikers to encounter falling rocks and boulders, so you should wear a helmet. While getting to the summit can be a challenge, you'll be rewarded with incredible views if you make it. In addition to testing your skills and mental stamina, the Mount Sneffels Classic Route has waterfalls and a beautiful lake.
Chihuahua Lake Trail
Another off-road trail that attracts many seasoned off-road enthusiasts is the Chihuahua Lake Trail. Situated in the White River National Forest near Dillion, this out-and-back trail is 7.2 miles long and gains 1,879 feet in elevation.
To get to the trailhead, you'll need to turn onto a dirt road from Peru Creek Road. This trail is difficult because it consists of a number of water crossings and rock fields and has a steep scramble at the top. Its main attraction is the pristine alpine Chihuahua Lake, and, on the way there, you'll see great views of wildflowers, meadows, and mountains. The best time to go on the Chihuahua Lake Trail is between May and October.
There are many other great off-road trails in Colorado, such as the Loch Lomond Trail, the Crystal Lake Trail, the Mount Princeton Trail, the Bald Mountain Trail, Jones Pass, and the Hunt Lake Trail. Before you hop on your off-road vehicle, make sure you have the necessary protective gear to ensure that you are safe during your ride.
Re-post our material is not allowed without permission.