Sturdier Ride
As people age, their sense of balance can sometimes deteriorate. Fortunately, trikes are sturdier than two-wheelers and, therefore, easier to ride. As the Baby Boomer generation gets older, they don't want to give up riding all together, and a trike is a perfect solution. Organizers at the Golden Aspen Motorcycle Rally say about one-third of the bikes at their rally are three-wheelers. Trikes do not require riders to lean into the curves or hold their bike steady at stop lights, both of which can be hard on weak knees and painful joints.
Trikes aren't just for older drivers anymore either. Women are also a growing segment of the population that are buying trikes. Some women feel a touring bike is just too heavy on two wheels. The slightest lean, and over it goes. A thousand pounds is hard to handle for the average woman, but you don't have to worry about that on a trike.
Trikes are also great for disabled riders or anyone that just has some general aches and pains and doesn't want to wrestle with two wheels any longer. Wheelchair-bound people can get on and off a trike much easier, and they're often customized for this very reason. Just pull the wheelchair up to an automatic ramp into the three-wheeled sled, secure the chair, and off you go. The sense of being part of the scene, rather than a spectator of it, is all yours as the freedom and excitement of the open road replenishes your spirit.
More Cargo Space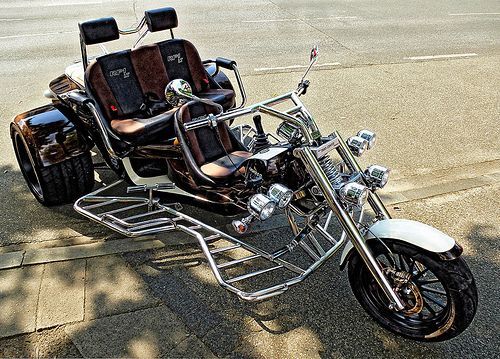 Image via Flickr by txmx 2
Trikes are great for hauling a trailer, and that is also part of their mass appeal. Anyone that has ever gone on a cross-country road trip on a motorcycle knows how difficult is to try and fit everything you need into a couple of saddle bags. You pack and repack until you're down to the bare minimum, and ultimately you get several days away and wish you had something you left behind. Trikes are great for hauling, and there are even little pop-up tent trailers made just for trikes. A lot more cargo space and a sturdier ride make for a more comfortable trip. And let's face it, we're creatures of comfort.
Trikes have started to take over at many traditional two-wheeled events, soaring down highways from the Black Hills of South Dakota to Route 66. It looks like it's a trend that is here to stay.
Re-post our material is not allowed without permission.
Redfox Trike Collection
Regular Price: $2,799.00

Special Price $1,899.95

+ $349.95 shipping

Regular Price: $3,399.00

Special Price $2,199.95

+ $349.95 shipping